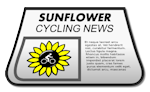 The Sunflower Cycling News is a periodic publication of Kansas Cyclist, featuring a compendium of hand-picked bicycling-related news items from Kansas and neighboring states.
The following is a recap of recent bicycling news from the region, as well as a look ahead to upcoming rides, races, and bicycling events coming up.
---
Bicycling News from Kansas
Bicyclist Victim of Hit-and-Run in Topeka
On May 16th, a 26-year-old man was bicycling with his mother when he was struck by a car that left the scene: "The man and his mom were traveling down Fairlawn on bikes when he was clipped from behind by a black muscle car, described as a newer model Chevrolet Camaro or Dodge Charger. The vehicle immediately drove off. The biker refused treatment and was walking around and talking shortly after the incident but was still taken to a local hospital by private vehicle for precaution. He was wearing highly visible clothing and a helmet, police said." [link]
Topeka manager, cyclists tout bike route possibilities
"City officials and community members braved the traffic, humidity and very real threat of helmet hair Thursday to take a tour of downtown Topeka through the eyes of a bicyclist. In honor of National Bike Month, Bike to Work Week and Topeka's growing commitment to making the city more bicycle-friendly, about a dozen people joined city manager Jim Colson in a 40-minute ride through downtown. The ride took cyclists along portions of three routes slated for improvements under the first phase of the Topeka Bikeways Master Plan." [link]
Air Capital Memorial Park Singletrack Grand Opening
On May 18th, Air Capital Memorial Park Singletrack held a grand opening for their new mountain biking trails in Wichita. [link]
Tires Hit Pavement For Bike To Work Day in Wichita
"Friday morning, many people swapped four wheels for two as part of Bike to Work Day. It's an event put on by the Health and Wellness Coalition of Wichita's Bike Wichita Committee. Several stations were set up throughout Wichita to provide an incentive to bike, and allow riders to refuel with food." [link]
Paola Sunflower Elementary Bike Month Ride

"On Monday, over 100 kids from Sunflower Elementary in Paola, Kansas rode together in celebration of Bike Month. It was a great turn-out for the first of what is hoped to become an annual event." [link]
Dirty Kanza cycling challenge to draw 940 racers to Flint Hills
"Nearly a thousand bicyclists will be pedaling through the Flint Hills on June 1 as they race to win the Dirty Kanza 200, an ultra-endurance, gravel-road cycling challenge. The first year, 38 racers competed in the Dirty Kanza 200. This year, 940 bicyclists, from 42 states, Canada, Australia and the Caribbean island of Nevis, will be at the starting line." [link]
Miami County Bike Tour

I was able to get out for an abbreviated bicycle tour recently, through rural Miami County, Kansas, and camping overnight at Louisburg's Middle Creek State Fishing Lake. You don't have to go far to find adventure! [link]
Stafford County Hospital provides bike helmets
"Stafford County hospital provided helmets to first grade students across the county with the assistance of a grant from the Kansas Department of Health and Environment." [link]
Regional Bicycling News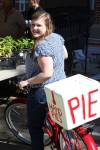 — Little Rock, AR: Introducing The Little Rock Pie Cycle: Taking sweet to the street — "The Pie Cycle is the brainchild of Hannah Moore, a native Arkansan with a zest for life and a flair for the unconventional. The Pie Cycle only recently began selling its wares—every weekend Hannah jumps on her bright red bike with an insulated container full of freshly baked hand pies strapped to the back."
— Little Rock, AR: New Bike Path Being Made Safer for Bicyclists, Pedestrians — "The Levy Trail off of Percy Machin Drive is designed for walkers and bicyclists only. Unfortunately, some people haven't paid attention to the signs and have driven through the paths anyway. In response, the city spent extra money to put up cement poles at intersections to keep drivers out. Motorists caught driving on the trail face a fine of up to $500. The ribbon cutting for the new Levy Trail is scheduled for June."
— Jefferson County, CO: Tension between bikes, cars, motorcycles high in Jefferson County — "Tensions between residents who drive the narrow canyon roads and bicyclists emerged more than a decade ago, and every summer the feud is rejuvenated by offenses from both sides. The Jefferson County Sheriff's Office continues to work with both groups to ease friction. Patrols have been increased in problem areas, where deputies are ready to cite motorists, motorcyclists and bicyclists for violations."
— Lyons, CO: Driver Who Killed Cyclist Held Vehemently Anti-Bike Views — Turns out the driver who killed a bicyclist in Lyons (while driving the wrong way) had previously spoken out about bicyclists in his community: "These people don't belong in Lyons. They certainly don't belong in the foothills around Lyons." Patrick Ward is now facing charges of vehicular homicide, driving under the influence of alcohol, prohibited use of a weapon, and other related charges, after he killed Michel Van Duym last week in Lyons. See also: Driver arrested in cyclist's death had complained bicyclists 'don't belong' in Lyons.
— Fort Collins, CO: Fort Collins bicycle culture, in nation's top 4, aims higher — "The League of American Bicyclists awarded Fort Collins the Platinum Bicycle Friendly Community status on Monday. It puts Fort Collins into the upper echelons of cities that embrace bicycles as a lifestyle. Next up, the city is striving to reach the next level: diamond."
— Steamboat Springs, CO: Checking In On BikeTown USA — "A few years ago, Steamboat Springs, Colorado set an ambitious goal: to become 'BikeTown USA'. Here's an in-depth look at their progress, and continuing challenges, towards reaching that goal."
— Iowa City, IA: Four steps city should take to improve bicycling — "Think Bicycles of Johnson County has identified four things that can be done in the next few months to make Iowa City a safer, better place to bike: Hire a bike/pedestrian coordinator, Implement the bike infrastructure approved in the Metro Bike Plan, Create road diets on Clinton, Madison and Gilbert streets, and Complete the redesign of the Burlington Street Bridge."
— Polk City, IA: Trail plan 'miffs' Polk City residents — "Recreation was the main topic of discussion at the Polk City City Council meeting Monday, with the majority of the talk about the location of a bike trail between Tyler and Broadway streets. Some neighbors in attendance said they were opposed to a 10-foot-wide bike trail across their properties. Others said the proposed cost was too much."
— Nevada, MO: Local advocates see success in project to add bike lanes to Highway 54 between Nevada and El Dorado Springs — "Highway 54 connects Nevada with El Dorado Springs, a distance of about 31 miles. Hwy 54 is scheduled for re-paving soon. The section between Nevada and El Dorado Springs already has wide shoulders and, because it connects two of the larger communities in this area, is a logical bicycle route connection. With a very small additional investment, that shoulder area can be turned into a real, designed and maintained bicycle lane."
— Kansas City, MO: New bike lanes coming in KCMO this spring — "KCMO's goal to implement the bike master plan when streets are repaved is making a good progress this year. Several city streets are slated for new bike lanes during the annual spring/summer repaving process."
— Lincoln, NE: "Some 40 cyclists hit the streets in Lincoln, NE Wednesday, May 15, as part of the 10th International Ride of Silence. We rode silently through the main streets of town, remembering cyclists killed or injured, and reminding everyone to share the road. The ride was organized in Lincoln by the Great Plains Bicycling Club." As reported by GPBC's Vice President Bob Boyce. Thanks, Bob!
— Omaha, NE: This recycling business uses bikes instead of trucks — "Wells, a longtime bicycle commuter, came up with the idea to bring bicyle-powered recyling service to Omaha, and he's spent the past year fine-tuning the plan. Wells has drawn some stares as he pedals downtown, pulling a load of recyclables. And it's true that bicycle-powered recycling pick-up isn't exactly common. 'We're very optimistic that something like this can work.'"
— Tahlequah, OK: Bike trails will increase cycling interest — "Rogers said there will be a lot more people out riding when bike trails are complete – coming downtown to shop, buy ice cream and attend events. The city is working on it. There are more sidewalks connecting to downtown, and the are a lot of rural roads that the Cherokee Nation has paved. Parents don't feel good about their kids riding on streets."
Event News
Events this weekend in Kansas include:
— The Cottonwood 200 is a 200-mile, three-day bicycle tour through the Flint Hills of northeast Kansas, covering some of the best cycling terrain in the state. May 25-26-27.
— The Lone Star Century is an annual ride organized by the Kansas City Metro Bicycle Club, beginning and ending in Olathe, and running past Clinton and Lone Star Lakes south of Lawrence. 21, 45, 72 or 100 mile options. May 26.
— The Jesse Blancarte 10K Time Trial is an annual bicycle race that takes place at New Century Air Center in Gardner, Kansas, on May 26.
Bicycling events elsewhere in the region include the Iron Horse Bicycle Classic in Durango CO, the Pedaler's Jamboree on the Katy Trail in Columbia MO, and Tour de Meers in Meers OK.
Organized tours starting soon include Kandango in Salina KS May 30th, the Bicycle Ride Across Nebraska on June 2nd, Biking Across Kansas on June 8th, Ride The Rockies on June 8th, , and the Oklahoma FreeWheel on June 9th.
See also: Kansas Ride Calendar, Regional Ride Calendar
Bicycling Inspiration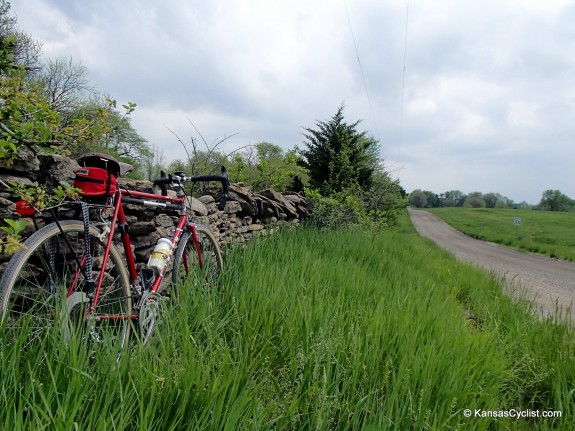 Bicycling the backroads has its rewards. Here, the bike takes a little break along an old stone fence in rural Johnson County, Kansas. It's so wonderful to see the countryside greening up!
---
If you have a news item or upcoming event you'd like to share, please contact Kansas Cyclist with details.