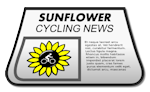 The Sunflower Cycling News is a periodic publication of Kansas Cyclist, featuring a compendium of hand-picked bicycling-related news items from Kansas and neighboring states.
The following is a recap of recent bicycling news from the region, as well as a look ahead to upcoming rides, races, and bicycling events coming up.
---
Bicycling News from Kansas
Exploring Wichita By Bike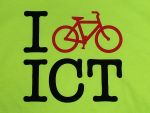 Late last week, I was in Wichita for the Navigating MAP-21 Workshop, and took the opportunity to explore a bit of the city by bike. Here are a bunch of photos and stories from my trip. [link]
I Biked ICT!
Center Bike Lane Planned for Lawrence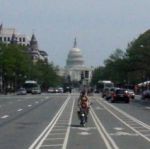 "Over the next four summers, KU will be reconstructing Jayhawk Boulevard piece by piece. The end result could include not just new, smooth pavement and sidewalks, but also restoration of a historic tree canopy mostly absent for the last 40 years and a bicycle lane down the center of the road." [link]
Note: Although the article describes it as "one bike lane down the middle of the road", presumably it will actually consist of two side-by-side lanes, one in each direction, such as the cycletrack on Pennsylvania Avenue in Washington D.C.
Lawrence Trail Network
"Over the last two decades, the City of Lawrence has built several attractive recreational paths in the community. Now it is time to link these separate paths to form an interconnected trail system, thereby multiplying their value. With a little more work, an outstanding trail network can be established that will be enjoyed by many generations to come. The fact is people love trails and trails are good for the community." [link]
KS Congressional Delegation Fails to Support Bicycle and Pedestrian Safety
"From their lack of action, neither Senator Moran nor Senator Roberts think bicycle and pedestrian safety is as important as motorist safety. And our Representatives Huelskamp, Jenkins, Yoder or Pompeo do not think bicycle and pedestrian safety is as important as motorist safety even though bicyclists, pedestrians and motorists are all legal users of the roadway. We've always known we were not equal on the roadway by shear physics. But the value of every life on the roadway should be equal no matter what ones mode of using the pubic roadway." [link]
As of late March, 69 Representatives — including both Republicans and Democrats, from all over the nation — had signed a letter of support to Transportation Secretary Ray LaHood, asking the U.S. Department of Transportation to set a national goal to reduce bicyclist deaths. None of the Kansas Representatives — not Tim Huelskamp, not Lynn Jenkins, not Kevin Yoder, Mike Pompeo — signed the letter of support, even though many of them have expressed support for biking and walking in the past. Neither Kansas Senator — Jerry Moran or Pat Roberts — has signed a similar letter of support in the Senate.
Feel free to write to your Senators and Representative to ask them to support establishing national standards for bike/ped safety, just as the Federal Highway Administration has established for all other modes of transportation.
The Beginnings of Scary Larry KBP
A history of Scary Larry Kansas Bike Polo in Lawrence: "Scary Larry Kansas Bike Polo began in October, 2009 with just four friends playing around on their commuters. Scary Larry has gone on to hold friendlies and tournaments at the SLKBP Hardcourt at Edgewood Park and continues to upgrade the court." [link]
Volunteers Needed for the Tallgrass Classic
Volunteers are being sought for the Tallgrass Classic on May 4-5 in Manhattan, which features two days of competition against cyclists from around the country competing in a Criterium race and Road Race. Volunteer positions include corner marshals, water bottle handlers, start/finish support, and vehicle drivers. [link]
Bicyclist Sideswiped on Highway in Leavenworth County
"A bicyclist was taken to the hospital after he was sideswiped by a vehicle Monday on U.S. 73, a police spokesman said. The vehicle and bicyclist were traveling south. The cyclist, a 50-year-old man, was on the shoulder of the highway. The vehicle's driver, a 46-year-old woman, said she had been watching the vehicle in front of her and apparently didn't see the cyclist. She was cited for an allegation of inattentive driving." [link]
Regional Bicycling News
— Denver, CO: Bike repair event helps unite Denver neighborhood — "Kelly has organized the Bike Fix It Day for the past five years. The event, which served more than 500 children last year, has provided hundreds of bikes to children and helps keep those bikes in working condition. Children watched their bikes intently as volunteers made fixes. In most cases, the tires had barely touched the pavement before riders climbed onto their bikes and pedaled away in a burst of two-wheeled freedom."
— Fort Collins, CO: Fort Collins plucks new Bikes Program manager from Seattle — "It took more than a year and a competitive nationwide search, but Fort Collins has named a new FC Bikes Program manager to take Fort Collins to the next level as a bicycling community. Tessa Greegor, 30, comes from Seattle where, for the past five years, she has been the principal planner for the Cascade Bicycle Club, the largest bicycle advocacy organization in the country. She will assume her new role May 13."
— Kalona, IA: A group in Iowa is appealing to the Iowa Department of Transportation to add wide paved shoulders as part of a resurfacing project on Highway 1, to improve safety for bicyclists and Amish buggies.
— Muscatine, IA: Cyclists get the hang of new bike racks — "The welded iron racks hang on the exterior walls of those buildings, where riders can hang up their bikes, rather than take up sidewalk space. Members of Muscatine's Melon City Bike Club decided to bring the racks to their hometown after using some at the It's On The River restaurant in Port Byron, Ill., while on a group ride." Cool-looking vertical bike racks! Might be challenging to use for riders with heavy loaded bikes, though…
— Kansas City, MO: City becomes more bicycle-friendly by adding 352 lane miles of bikeway signage — "The city has begun installation of 352 lane miles of bike routes and 'share the road' signs throughout the city. Located primarily on quiet residential streets, the signs provide the beginning for a 600-mile bikeway system in Kansas City. The signage will not only help guide cyclists as they travel, but they also will help cyclists identify which streets are bicycle-friendly for travel. The City is committed to becoming a platinum-designated bicycle-friendly community by 2020."
— Kansas City, MO: Five die-hard cyclists: Why they ride — "They're everywhere: riding to work, school, dinner, the grocery store and the dentist's office. In other words, they're doing just what Kansas Citians in cars are: getting where they need to go. Meet a few of these dedicated cyclists, covering 5 to 30 miles each week on their bikes. They explain why overcoming obstacles to bike in KC is well worth the effort and encourage everyone to give biking a shot."
— Nebraska: Psycowpath Opening Weekend — A report from the season's first mountain bike races, the Jewell Jam TT & Swanson Short Track, and the Swanson Shoot Out XC in Bellevue, part of the Psycowpath Mountain Bike Series: "It was good to see a lot of old friends that I hadn't seen all winter, and felt great to get out on the singletrack again. Thanks to all the volunteers who helped put on this and all the races."
— Oklahoma City, OK: OKC Bicyclist Determined To Find Hit-And-Run Driver — "Last Thursday, Aavery Ross was riding his bike southbound on Penn. north of Hefner. When he crossed the entrance to the Buy for Less parking lot, he says the driver of a black Mercedes pulled out and hit him. Now, working the intersection just a few feet from the scene of the accident. Ross is watching every car that comes by very closely for the Black Mercedes that hit him. Police say even though the driver stopped, it's still illegal to leave an accident without giving any information."
Event News
— The Spring Hill Ruritans have announced the date for their annual Bull Creek Bike Bash, which takes place May 4th in rural Johnson and Miami counties, with 20-, 30-, 50- or 60-mile routes.
— Pub Pedal for Earth Day is an annual Kansas City, Missouri event in which participants enjoy a simple leisurely ride from bar to bar to have a good time and help raise awareness for bicycling as transportation. It takes place on April 20th.
— BAMFAM (Bike Around McPherson for Families) has announced its 2013 date: May 4th. The event is a fundraiser for McPherson Family Life Center.
See also: Kansas Ride Calendar, Regional Ride Calendar
Bike Shop News
— Bicycle X-Change is holding a TrekFest Spring Sale April 11-15 in Wichita: "Hurry in for the best Trek deals of the year."
— BikeSource in Overland Park is running two big sales: "The Spring Sale and the Specialized Spring Classics Sale going on now through April 21".
— Bike America in Overland Park is holding a Bicycle Swap Meet on April 13th (8am – 5pm) and April 14th (11am -4pm). This is free to public, where everyone can buy, sell, and trade.
Personal Notes
I'm participating in this year's 30 Days of Biking challenge, and so far it's going well. I'm 10 out of 10, for a total of about 126 miles, approximately 2/3 for errands and the others just for fun.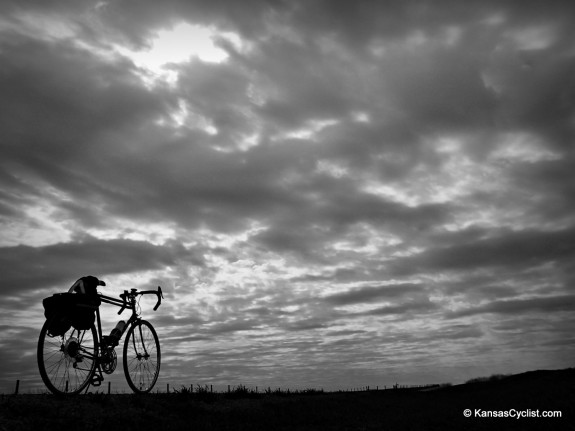 Weather has been moderately challenging — a few windy days, some coolness, some rain, some warm and humid, and some cloudy days, as in this picture from April 1st.
Haven't done any big rides yet, but I certainly hope to before long!
---
If you have a news item or upcoming event you'd like to share, please contact Kansas Cyclist with details.