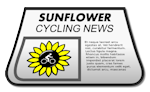 The Sunflower Cycling News is a periodic publication of Kansas Cyclist, featuring a compendium of hand-picked bicycling-related news items from Kansas and neighboring states.
The following is a recap of recent bicycling news from the region, as well as a look ahead to upcoming rides, races, and bicycling events coming up.
---
Bicycling News from Kansas
Lawrence still has a way to go before streets are 'complete'
"While the city of Lawrence adopted a 'complete streets' policy in 2012, the community still has a long way to go before its roadways are safe for travelers of all stripes. That was the message at an informational meeting at the Lawrence-Douglas County Health Department on Thursday afternoon featuring two national experts on the subject." [link]
Bicyclist Killed in Emporia Crash
On October 24th, Ronald W. Kennedy of Ottawa was struck and killed by a pickup truck in Emporia. He is the sixth bicyclist to die on Kansas roads in 2013. [learn more]
Fort Leavenworth Trails Featured at Nov. 9 Event
"Fort Leavenworth has a treasure that many people apparently don't know about, but a special day has been set aside to let them experience this gem in person. From 10 a.m. to 4 p.m. Nov. 9, the post will celebrate National Public Lands Day by highlighting the fact that the installation has a beautiful multi-use trail system. Currently under construction but still usable, the five-mile trail system features an upper, middle and lower loop that covers about five miles." [read more]
Grandma's mission puts kids on two-wheelers in Osawatomie
"Kindergartners at Swenson Early Childhood Center pedal and zoom around the playground these days, thanks to a grandma on a mission with the help of an Osawatomie doctor — of sorts. She remembered seeing an advertisement in the newspaper by The Bicycle Doctor and soon enlisted the aid of the good doctor, Dale Dollar, and his shop on Lookout Road in Osawatomie.'I love to do bikes for children and help them in any way I can.'" [learn more]
Regional Bicycling News
— Russellville, AR: Residents concerned on street project — "The city recently micropaved and restriped South Phoenix Avenue, added bike lanes and eliminated the center turn lane along that stretch of roadway. Two citizens spoke up Thursday, questioned the wisdom in the plan and asked why nearby residents weren't notified of the project in advance. Alderman Seth Irwin, who said he is a cyclist, touted the safety benefits of bike lanes, and said the new lanes on South Phoenix greatly improved the safety of that roadway for cyclists. Complete streets are an important infrastructure strategy that promote active transportation in a city."
— Littleton, CO: Greenway users give trail high marks — "The city of Littleton and South Suburban Parks and Recreation paid Alta about $45,000 to study the safety of the trail, which gets more than a million visits each year. Alta surveyed almost 200 trail users, most of whom visit four or more times a week, and found that 93 percent rate their experiences as good or excellent, and 73 percent are happy with the etiquette displayed on the trail. The city began ticketing speeding bicyclists after a cyclist died in a head-on collision on the trail in 2003. The managing agencies also painted a centerline, built a separate crusher-fine path for pedestrians and installed bicycle roundabouts at problem points."
— Des Moines, IA: Gay Lea Wilson Trail extension will be worth the wait — "The long-awaited completion of the extension, which connects Ankeny to Des Moines, Pleasant Hill and Altoona, was slowed this summer when an illegal dumping ground was discovered along the trail route near Broadway Avenue. The wait will be worth it for those who pay attention to the details along the purposefully meandering path cut by the Gay Lea Wilson Trail. A ribbon cutting for the 5.4-mile extension is Wednesday."
— Missouri: New signage installed on the Transamerica Trail this year–why it's so important — "After decades of advocacy by MoBikeFed and our allied organizations across Missouri, and many years of planning and coordinating by MoDOT statewide bike/ped coordinators, the entire Transamerica Trail has been adopted officially into the U.S. National Bicycle Route system and–most importantly–signed to mark every turn."
— Lincoln, NE: Centennial Mall bike lane design gets OK — "Bright green dashed lines will mark the city's new bike lane as it crosses Centennial Mall on N Street. The Kermit-colored crosswalks are part of the design for a protected bike lane that stretches 16 blocks from the West Haymarket to Antelope Valley along N Street. The green color, as opposed to the traditional white crosswalk, tells drivers and pedestrians to watch out for bikes."
— Norman, OK: Students to 'brake for safety' at bicycle event — "The 'I Brake for Safety!' event will invite students to a Q & A session with Sgt. Jay Littlejohn of OUPD, who is an International Police Mountain Bike Association instructor. The event will promote safer streets, sidewalks and path for all cyclists and those who share the road."
Event News
If you're in the Wichita area and are looking for a Halloween-themed ride, join the Coasters Bicycle Club for the 7th annual Hallowheelie, October 31st 7:00pm at the Shamrock Lounge. Ride in costume, decorate your bike.
This coming weekend features the recreational gravel ride Tour de Chicken Creek in Douglas County, as well as a cyclocross racing weekend in Shawnee, with the Colavita Cup on Saturday, and the Boulevard Cup on Sunday.
See also: Kansas Ride Calendar, Regional Ride Calendar
Bicycling Inspiration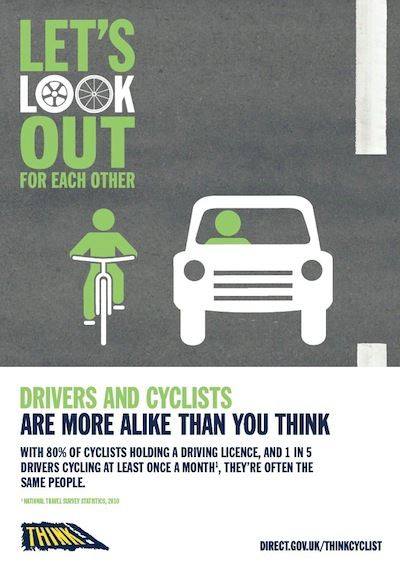 "Let's Look Out For Each Other"
This poster is from the United Kingdom, so the statistics may or may not exactly match up with our experiences here (though I suspect they're in the same ballpark), but the statement that bicyclists and drivers are "often the same people" rings 100% true.
I've long thought that if you look at the percentage of people who break the law while driving, and the percentage of people who break the law while bicycling, you'd find that the percentages would basically be the same … because they're the same people, just getting around in different ways!
It's not "us" vs. "them". It's just "us" … we're all in this together. So let's look out for each other.
---
If you have a news item or upcoming event you'd like to share, please contact Kansas Cyclist with details.
Post tags: Digest, Emporia, Lawrence, Leavenworth, Osawatomie