Des Moines, IA – One of the most talked about teams to emerge from the Iowa bike racing scene is the Punk Rock Cycling Women's Team. Founded in the winter of 2007, PRC is a women's-only race team dedicated to promoting the sport, getting more people involved, hosting races and rides, running clinics, and basically just giving a damn about the community of cycling in Iowa.
For 2009 PRC boasts an impressive 10-woman roster that includes some of the strongest riders in the Midwest as well as up-and-coming category IV stars. In the women's elite field Kelli Mente, Iowa's current criterium state champion, is acting as team leader on the road as well as filling her duties as one of the teams' three directors. For 2009 Mente is joined again by Christina Maravelas. Maravelas had a breakthrough 2008 year, in her first year she won several races and established herself as a threat in any race she enters. Category 4 Time Trial state champion Maria Ruhtenberg and road race silver medalist round out the team's returning veterans.
For the coming season, the four have invited a whole posse of women, varying in ages and ability. Including former Junior National Road Race Champion Keely Shannon. Shannon's ability to close in the final 200 meters will be a perfect addition to the pure horsepower of Mente and Maravelas.
In the women's category IV field PRC has found some of the strongest women in Iowa; Sara Broek, Alison Doyle, Heather Myer-Davis, Keri Fellows, and junior rider Alaina Spaur. While these four riders may not have built a strong cycling resume yet, they have already established themselves as a force to contend with in the coming year.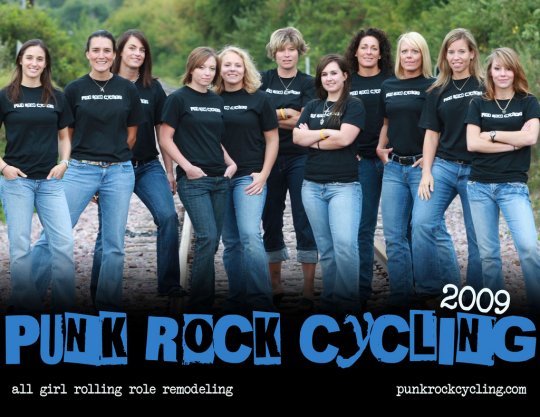 Along with a heavy race calendar, PRC will also be hosting a slew of races as well as social events including criteriums, duathlons, and the extremely popular Cranksgiving alleycat in November.
For their road racing, all of the girls on PRC will be riding a Specialized Ruby, the top tier race rig designed especially for women. Each bike is equipped with Shimano components and wheels. The girls will also be using the newest women-specific sport eyewear from Oakley, as well as helmets, gloves, and shoes from Specialized, all specifically designed for women.
The Elder Corporation is the primary backer for the PRC team. Elder Corporation is a Pleasant Hill based company specializing in earth moving, demolition, and utilities. Other sponsors include Rasmussen Bike Shop, Visionary Services, RBS Safety Training, Harlot Clothing, Firehouse Yoga, and Hands On Sports Massage.
The preceeding guest post was contributed by Punk Rock Cycling. To learn more about the Punk Rock Cycling Women's Team visit their website at http://www.punkrockcycling.com.