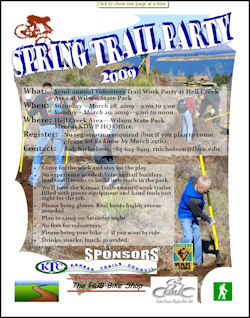 The Kansas Trails Council, the Central Kansas Mountain Bike Club, The Hub Bicycle Shop in Hays, and the Kansas Department of Wildlife & Parks are sponsoring a semi-annual Wilson State Park volunteer work party on Saturday and Sunday, March 28 and 29, 2009 at the Hell Creek Area of Wilson State Park.

No experience is needed. Veteran trail builders will lead small teams to build new trails in the park. The Kansas Trails Council will provide a work trailer filled with power equipment and hand tools just right for the job. Work gloves and boots are highly recommended.
Plan to camp out on Saturday night. There will be no camping fees for volunteers. Drinks, snacks, and lunches are provided.
Come for the work and stay for the play. Please bring your bike if you want to ride!
The Wilson Lake Trails offer some of the top mountain biking in the state, and they just keep getting better. In a recent ride report Joshua Stamper (thediscerninghobo) called Wilson "a real jewel of Kansas mountain biking":
After cruising around for several hours, we were both in agreement that there really is nothing like this within a days drive. Big technical slickrock sections, moves that require torque and finesse, long climbs, sweeping fast descents, in short, there is something for everyone.

Wilson is the labor of love of the KTC and Central Kansas Mountain Bike Club. They put in a ton of work out there, and it shows. Next weekend they are having a work weekendand adding on another mile of trail. If you have never been out there now is the time to go.
To get involved, please view the brochure (PDF) and contact Bob Nicholson at 785-623-8919 or rnicholson@fhsu.edu