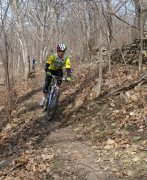 With the year winding down, and riding conditions becoming more brutal, now is a good time to think about giving back a bit to our cycling community. One way to do this is to help with trailbuilding.
Most mountain bike trails (and many rails-to-trails project) are built and maintained by volunteers, who do this important work with little money or support, putting their own time and effort into building trails you can ride and enjoy year-round.
This post serves two purposes:
First, it's a call-out to those groups and individuals who give selflessly to make the trails happen:
Secondly, there are some upcoming workdays where you can help:
If you ride, you need to work. Pitch in!