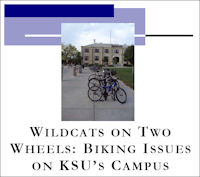 Wildcats On Two Wheels: Biking Issues on KSU's Campus
Learn about the current status of biking on the Kansas State University campus, and suggestions for environmental, policy and programs to make KSU more bikeable.
When: December 10th, 4pm
Where: KSU Student Union room 213
Presented by the students of KIN 830 and Melissa Bopp. For more information email mbopp@ksu.edu.
Post tags: Manhattan