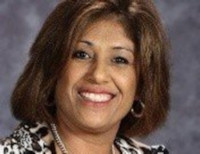 Patti Gilliam, a bicyclist from New Strawn, Kansas was struck by lightning on Saturday, September 10th, while riding her bicycle across John Redmond Reservoir Dam. She died at a hospital on Wednesday.
According to the Emporia Gazette:
Patti Gilliam, a Spanish teacher at the high school for five years, died Wednesday at Stormont-Vail Hospital in Topeka. A resident of New Strawn, Gilliam was struck by lightning Saturday evening as she was riding her bicycle across John Redmond Dam. Emergency personnel transported her to Coffey County Hospital, and she was transferred to Topeka.

"She's a dearly loved teacher by the students, the staff, the parents, everyone," said Principal Scott Sheldon. "Losing Patti, it's just very hard for everybody on so many different levels. She was just a very special person, and it's devastating." [read more]
From KWCH 12 Eyewitness News:
The Sheriff's office says on September 10th Gilliam was riding her bike on top of the John Redmond Reservoir Dam when the weather turned bad.

Police say Gilliam turned around and was heading home when she was hit by lightning. She was by herself but other people around saw what happened and called 911. Emergency crews say they were called at 6:21 p.m.

The Coffey County Undersheriff said it was a "freak storm" and that there were no warnings. Gilliam was taken to the Coffey County Hospital and then taken to Topeka. [read more]
The Associated Press reports that "The sheriff's department says thundershowers were some distance away at the time Gilliam was hit."
Funeral plans for Gilliam have not yet been set. She leaves behind a husband, two adult children and several grandchildren. Extra counseling services have been made available at the school for students and staff members who may need help dealing with the loss.
Condolences to family, friends, staff and students at Emporia High School.
Photo courtesy Emporia Public Schools.
Post tags: Emporia