Today is day #25 of the 2012 30 Days Of Biking challenge.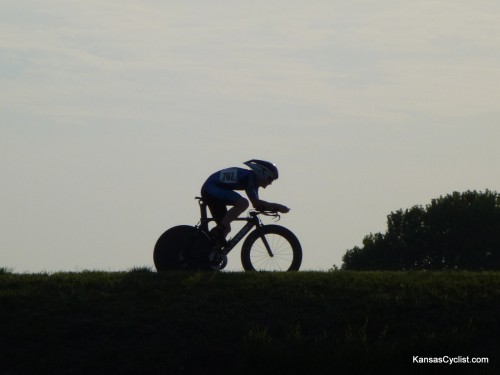 This photo shows a racer participating in the PowerFiTTE 10K Time Trial Series in Gardner, Kansas.
The event takes place at New Century AirCenter on a nearly flat 6.2-mile course. The route is open to traffic, but by early evening, traffic is light, and there are no stop signs or traffic lights to deal with, so racers can open it up and pump out the power.
On this date, there were 24 racers, both men and women, ranging in age from juniors to masters, riding everything from stock road bikes to specialized time trial machines. The fastest riders completed the time trial with a nearly 29 MPH average.
The time trial takes place once a month from April through September. The series is promoted by Gina Poertner of LifeBALANCE Sports & Wellness, who also officiates the event as well as numerous other cycling, triathlon, and track & field events around the region. Gina also provides bike fitting and coaching services to athletes throughout the nation.
If you'd like to test yourself with this cycling discipline, the next race is scheduled for Thursday, May 17th. Details at lifebalancesports.com.
Post tags: 30 Days Of Biking 2012