Today is day #26 of the 2012 30 Days Of Biking challenge.
I did get in a few miles today, but this photo is actually from yesterday, when I was in Kansas City, Missouri for a few hours, and took the opportunity to ride the Trolley Track Trail, and visit the Revolve Community Bike Shop: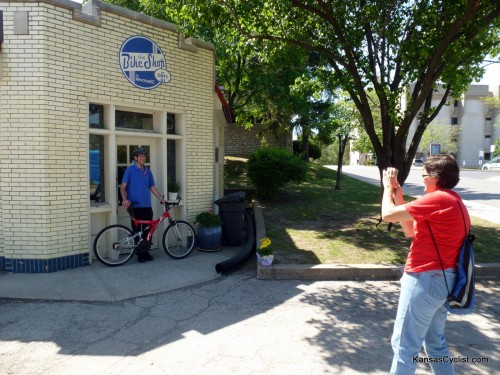 While I was there, Gene was picking up the bike he'd just earned by completing the Traffic Skills 101 course and on-bike skills test.
Instructor Elizabeth Bejan is taking Gene's photo to add to Revolve's scrapbook. Gene is the 84th person to earn a bike through Revolve's Earn-a-Bike Programs!
Elizabeth is Executive Director of Revolve, and a certified League Cycling Instructor (LCI) for the Smart Cycling Program of the League of American Bicyclists.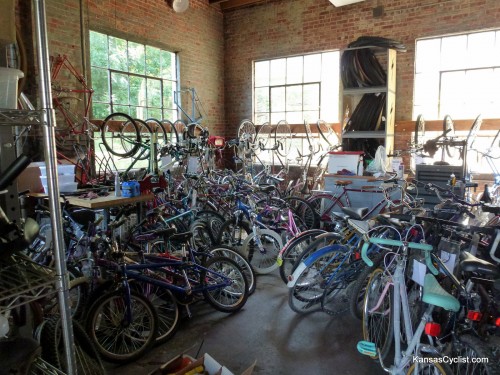 Revolve has a huge collection of bicycles of every description: road bikes, single-speeds, cruisers, mountain bikes, kids bikes, etc. Many are vintage, but some are nearly new. It's fun to go there just to look around at all the cool old rides.
With all those bikes, they need a lot of help in restoring them, and are constantly in need of volunteers, particularly people with bike wrenching skills or mechanical aptitude.
And, of course, if you have any bikes you no longer ride, in any condition, consider donating them to Revolve. Even bicycles that cannot be refurbished are stripped for usable parts and the metal is recycled. Revolve also appreciates monetary contributions to support their community programs. Donations are tax deductible.
Drop off bicycles or components at the Revolve Community Bike Shop at 5100 Troost in Kansas City, Missouri. They're open weekdays from 9am to 5pm, and on Saturdays from 9am to 4pm. You can contact them at info@revolvekc.org or 816-835-3310.
Post tags: 30 Days Of Biking 2012