Today is day #19 of the 2012 30 Days Of Biking challenge:
Enjoying Flats? No, not flat tires … flat pedals!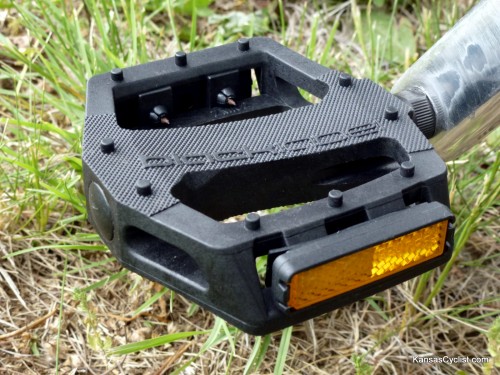 Over the last year I've begun to ride with flat (platform pedals) more often. A friend recommended that I try BMX-style pedals, I did so, and I've been riding with them for about a year now.
I had used clipless pedals (Shimano PD-M520 SPD's) for a long time, and they worked fine for me. I have a couple pair of shoes that are set up with the cleats, and the system is easy to use and efficient.
But flat pedals offer one big advantage over clipless: you can use them with (nearly) any shoes. This is pretty handy on a bicycle tour, where every bit of space and weight is precious, and not having to pack two pairs of shoes — one for the bike and one for walking around town, or after you set up camp — is a pretty big deal.
Being able to wear normal shoes also eliminates that annoying clickety-clack sound that you get when walking around on cleated shoes. Some stores won't even allow people wearing "bike shoes" to enter their business, for fear that the cleats will scar up expensive flooring.
The pedals pictured above are Black Label Graduate BMX pedals, which I purchased at a local bike shop. They're inexpensive (around $20), and offer a large, grippy platform with a concave and textured center area. This pedal has molded plastic "pins", whereas higher-end pedals offer replaceable metal pins (and in some cases, metal bodies and higher-quality bearings), but I haven't had any problems with my shoes slipping around on the pedal.
This is the second pair of these pedals I've bought. I'm currently using them on both my Long Haul Trucker touring bike, and my vintage Puch road bike.
The pedals don't come with reflectors, but the bike shop gave me some for free when I asked. By Kansas law, all new pedals are supposed to include reflectors, but many don't. I think it's worth asking for, and installing, the reflectors — the rotating motion of the pedals is one of the best ways for drivers to identify bicycles in the dark, when approaching from the front or rear.
I've also tried more traditional-style "blade" pedals (such as this), but I found the larger surface area provided by the BMX-style pedals to be much more comfortable.
For another perspective on the flats-vs.-clipless decision, check out The Shoes Ruse, from Rivendell Bicycle Works:
The biggest myth in bicycle riding is the need for special cycling shoes and the benefits of stiff ones. The argument in favor of Special Shoes is this: With a firm connection to the pedal, you will be able to apply power for the full 360-degrees of a pedal revolution.

That's one of the biggest, fattest lies of all time on any topic, but experts, riders, and the media repeat this over and over again, year after year.

The most important and liberating thing I've learned in 40 years of riding nearly daily, is that normal shoes and pedaling unconnected is the way to go. For me, at least, and for a growing number of people who try it. It's not easy to give up old habits that you've practiced and espoused for 35 years. But at some point the madness has to stop, and if you're looking for an excuse to head out on a ride in your Hush Puppies, now you have it.
I mostly agree with that. Clipless pedals systems are great if you're racing bikes (or riding a recumbent bike), but for most everyone else, they're not really adding much. If you like them, then that's fine, but don't dismiss platform pedals out of reflex.
There's really only one thing I miss about clipless pedals: that's the ability to pull up on the pedal to "cock" it for the first pedal stroke when stopped at a traffic light. That was a handy feature, and makes cold starts quick and reliable. I can sort of replicate it with the flat pedals, by manually pushing the pedal into the right position, but it's not as easy or convenient. Other than that, I have no regrets about the switch to platforms.
I still use my SPDs in the winter, where they work well with a pair of too-large MTB shoes and extra layers of socks to keep me warm. But in Spring, Summer, and Fall, I'm mostly a platform pedaler now.
What type of pedals do you prefer?
Post tags: 30 Days Of Biking 2012