Today is day #13 of the 2012 30 Days Of Biking challenge: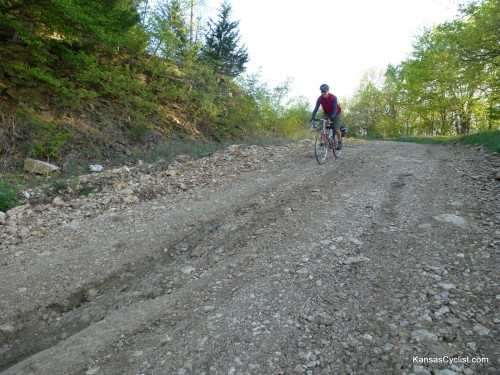 This photo illustrates an example of what is often called "Underbiking", generally defined as riding a traditional road bike on surfaces where most people think would require a mountain bike.
In this case, I'm heading down a rocky minimum-maintenance road on my Puch Cavette II, a late-1970's "ten-speed" with relatively skinny tires (27″ x 1-1/4″). It's hardly the ideal bike for this sort of terrain. And yet, it works, and works well.
So many people who ride road bikes seem to turn up their noses at gravel roads, and wouldn't dream of riding on a rutted-out road with bug chunky rocks like this. If a road is not paved, they consider it off-limits.
Yet I've learned the the limitations are more in the mind than in the bike. The bike will handle it. Can you?
I regularly take my road bikes on gravel roads, minimum-maintenance roads, gravel trails, and even some mountain bike trails (the recent Trailside Rest Area post was an example of this). In fact, I seek these places out!
As much fun as it is to ride paved roads in Kansas, there's a certain sameness to it. Sure, some roads are concrete, some are asphalt, and others are chipseal, but these are relatively minor variations. I like variety!
Chris Kostman, from the "Rough Riders" club in California, covers the idea in more detail in Any Bike, Anywhere: The Rough Rider's Way of Life and Mountain Bikes: Who Needs Them?
If you haven't done so already, give underbiking a try. You might just be surprised at what your bike is capable of…
Post tags: 30 Days Of Biking 2012