Today is day #20 of the 2012 30 Days Of Biking challenge: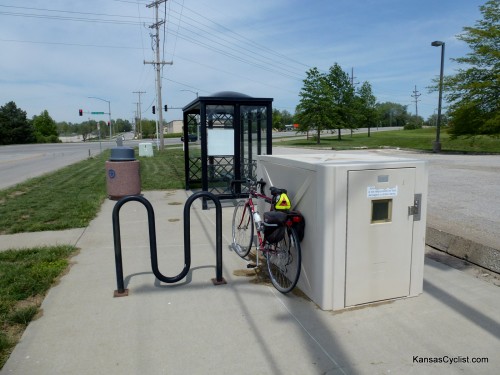 Johnson County Transit ("The Jo") provides bike lockers (though they call them "bike stands") at a number of their bus stops in Johnson County, Kansas.
The idea is that someone would ride their bike from home to the bus stop, take the bus to work while securely storing the bike in the locker during the day, safe from weather and theft, and then remove it from the locker when the bus returns them to the stop in the evening, and ride the bike home.
It's a slick system for a multi-modal commute, though I don't know how many people actually use it.
The locker at this bus stop can store two standard-sized bikes. There's a door at each end of the locker, along with a little window (presumably so you can see if there's already a bike inside, but the windows on this locker were opaque and I couldn't see through them).
There are also two coin slots and two keyed locks on each door. There are no instructions, and the coin slots are not labeled, but they look to be quarter-size.
I suppose I should have invested a few cents to figure out how it works, but I didn't. If you've used one of these, please explain how the coin slots and keys work…
Are there any other places in Kansas offering bike lockers?
Elsewhere in our region, a quick search turned up a few cities offering bike lockers, including Colorado Springs, CO, Denver, CO, Cedar Falls, IA, Blue Springs, MO, Springfield, MO.
Post tags: 30 Days Of Biking 2012