Today is day #15 of the 2012 30 Days Of Biking challenge: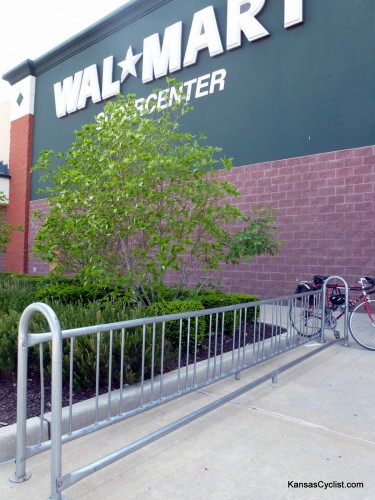 Outside the local sprawl-mart sits a bike rack that I like to think of as "mine". It's not, of course, even if I'm the only one who happened to be using it on this fine Spring day. But I did play a part in getting it put in.
When this development was built a few years ago, I was disappointed to learn that it had no bike rack, despite its location near a housing development.
So I contacted the store via the store's online feedback form, and asked if they'd considered installing a bike rack. I explained that I wanted to shop there, but didn't feel comfortable leaving my bike chained to a tree or a shopping cart corral. And surely there were others who felt the same way, and we'd very much appreciate a safe and secure place to park our bikes…
It was a pleasant surprise to get a call from the store manager the next day, letting me know that he'd placed an order for a rack, and expected it within a few weeks.
A month or so later, there it was, installed in a very nice location right near the front door, with slots for plenty of bikes. My next time into the store, I hunted down the manager and thanked him personally.
It's a wheel-bender style rack, unfortunately, but I wasn't about to complain after the store had been so accommodating. I normally park my bike at either end, and that works fine.
The store also does a nice job of keeping the area around the rack clean, and they don't clutter the area with outdoor product displays. They've even cleared snow from the rack area in the winter.
The rack actually gets quite a bit of use. There are other bikes using it more often than not, and I've talked with a couple of store employees who ride their bikes to work. I have a choice of several stores in my area, but tend to patronize this one the most. The bike rack's not the only reason, but it's a big one.
If you have a local store that you'd like to ride your bike to, but don't feel safe parking there, talk with the manager or owner. Chances are they'll try to accommodate you in one way or another. Doesn't hurt to ask!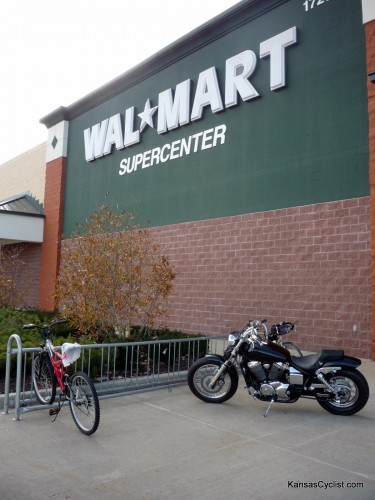 Of course, it's hard to control what types of "bikes" try to park here …
Post tags: 30 Days Of Biking 2012