Today is day #18 of the 2012 30 Days Of Biking challenge: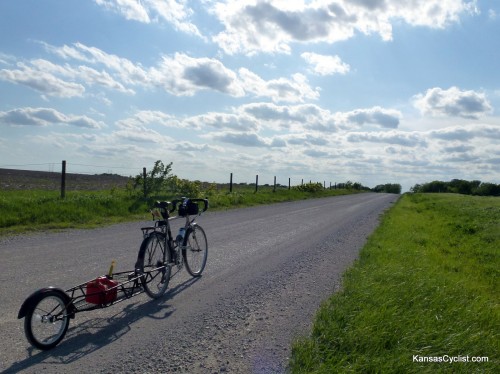 My Surly Long Haul Trucker can handle quite a load, but sometimes it needs a little help for particularly large, heavy, or awkward items. For that, I use a bicycle trailer.
In this case, I was making a dual-purpose trip — taking the gas can into town to fill it up for the lawn mower, and also to retrieve some bigger-than-normal things from the store. I probably ended up with 25 pounds of stuff in the trailer. That's not a particularly heavy load by any means, but some of the things were too large to securely lash to the bicycle's rear rack, but the trailer handled them just fine.
The trailer I use is a Nashbar Cargo Trailer
, a single-wheel design that is rated for up to 45 pounds. The trailer connects to the bicycle's rear axle by replacing the standard quick-release wheel skewer with a special skewer that allows for attachment of the trailer arms.
The trailer tracks the bike very well, but I've found that it tends to affect handling more than I'd like. Even with the trailer empty, it seems to make the bike feel more "tippy". Usually, I prefer to use panniers if at all possible. Even though panniers put the load directly on the bicycle frame, it doesn't feel as awkward as the trailer, in my experience.
I have not tried a two-wheel trailer; perhaps that type is more stable…
Post tags: 30 Days Of Biking 2012