Today is day #22 of the 2012 30 Days Of Biking challenge, and although I didn't get to do a lot of riding, I did focus quite a bit on bike-related stuff.
First, after yesterdays, mixed-surface ramble, the chain on my vintage 10-speed Puch road bike was starting to be audible, so I cleaned and re-lubed it. While working on it, I noticed that the rear hub was making a grinding sound. There was also a slight wobble in the hub. Not good signs.
I took the bike in to the local bicycle doctor, and he diagnosed it as worn bearings, which is what I'd assumed it would be. He had a number of job lined up ahead of me, so I left the bike with him so he could get to it within the next few days.
In the meantime, he was kind enough to let me take home a loaner, a used bike I'd had my eye on as a possible upgrade to the Puch.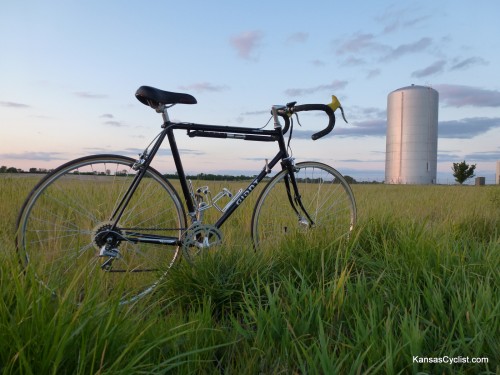 It's a 1988 Giant RS930, a mid-level (I believe) steel lugged road bike with 4130 chromoly tubing, 700C wheels w/25mm tires, and downtube shifters. Compared to the Puch, it's 10 years younger, has better quality tubing, skinnier tires, and true road bike geometry (the Puch was classified as a "sport touring" model).
It happens to be my size, so it'll be an interesting experiment to ride for a few days, and try to get a feel for whether it's worth making the switch.
Post tags: 30 Days Of Biking 2012