Today is day #1 of the 2012 30 Days Of Biking challenge.
To participate in the challenge, you just agree to ride your bike every day during the month of April. It doesn't matter how far you ride, how fast you ride, or for what purpose you ride. For some, the idea is about proving something to themselves. For others, it's about health or fitness, or simply having fun. Whatever the reason, just ride.
I participated in this challenge last year (30 Days of Biking, April 2011), and managed not only to complete the challenge (and ride 665 miles), but to post a picture every day as well.
My goal for the 2012 challenge is the same: ride a bike every day, and post a picture every day.
Last year, the photos proved a tougher challenge than the biking. This year, after using up a lot of nearby photo opportunities, I'm anticipating even more difficulty in finding fresh subjects and perspectives.
---
April 1, 2012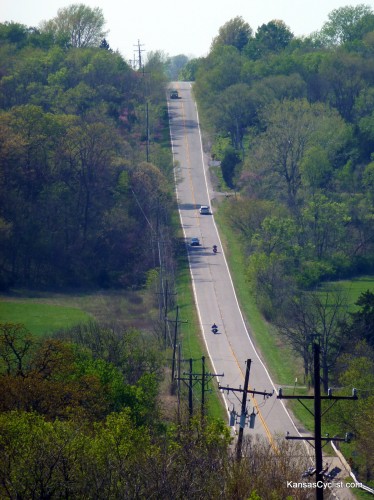 On 135th Street just west of Olathe, Kansas are a couple of good-sized hills known locally as the "Twisted Sisters".
This is the eastern-most hill, looking west. It's arguably the steepest of the four hills (two climbs riding west, two riding east). The Twisted Sisters are a popular local training route for cyclists wanting to work on their hill-climbing technique or endurance. Even though it's a two-lane road with no shoulders, on the eastern edge of a city of 125,000 people, traffic is usually not too bad.
Here's the map and elevation profile: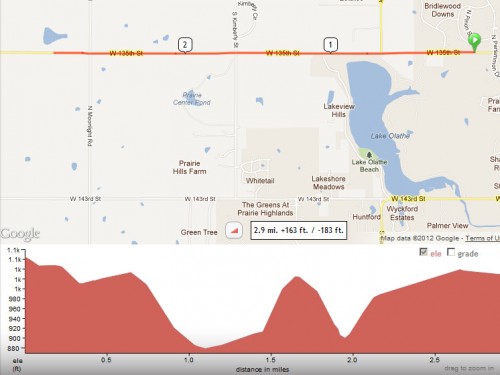 The photo above was taken from approximately 0.65 miles into the run; the top of the following hill is at about 1.65 miles, looking west at the steepest pitch.
I waited around a while for some bicyclists to ride the hill, but none appeared, so I settled for motorcyclists.
Then I went and rode the hill myself. Going up, it's a grunter — put the front derailleur in the smallest chainring, and spin, spin, spin. Going down, it's a 40+ MPH screamer.
By worldwide, or even national, standards, these hills are nothing, but in Kansas, they stand out. Talking with some cross-country cyclists who stopped in Olathe a few years ago, they told me that those hills, after coming eastward across Kansas, were quite a shock. They were the toughest hills they'd encountered since leaving the Rocky Mountains, they said.
Post tags: 30 Days Of Biking 2012