Today is April 2, 2012, day #2 of the 2012 30 Days Of Biking challenge: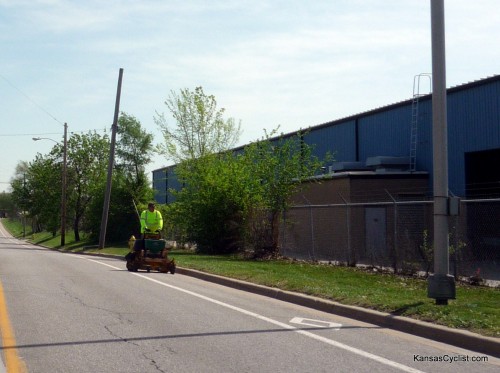 He might be driving a motorized vehicle the wrong direction in a bike lane, but at least he's wearing a yellow reflective shirt. Safety First!
Actually, this is an example of an "incomplete street". It's a two lane road with a bike lane on each side, but no sidewalks in either direction. I often see people walking in the bike lanes here, and it's hard to blame them, since there's hardly any room to walk alongside the road.
This is in Olathe, Kansas, along 143rd Street (Dennis Avenue).
Thought it's still in the early stages, BikeWalkKC is leading the campaign to persuade Olathe to adopt a Complete Streets policy. The city held its first public meeting on the process on February 29th.
Post tags: 30 Days Of Biking 2012