Today is day #14 of the 2012 30 Days Of Biking challenge: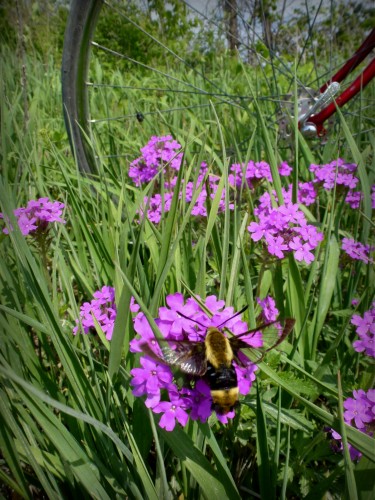 This one surprised me. I'd stopped alongside a road to take some photos of these lovely purple flowers, and I heard a buzzing, and assumed it was a bumblebee. It wasn't until I took a closer look at the images that I realized that it wasn't a bee at all.
It's a Snowberry Clearwing Moth (Hemaris diffinis), sometimes called a "Bumblebee Moth". Wikipedia says "The moth's abdomen has yellow and black segments much like those of the bumblebee, whom it might be mistaken for due to its color and flight pattern similarities." It certainly had me fooled!
The flower is called Rose Verbena (Glandularia canadensis), and can be found in "Rocky prairie hillsides, waste places, open woodlands, and roadsides, most abundant on dry, well-drained sites with sparse vegetation. Principally east 1/3 of Kansas." It normally doesn't flower until May, so it's early this year.
Post tags: 30 Days Of Biking 2012