Today is day #27 of the 2012 30 Days Of Biking challenge.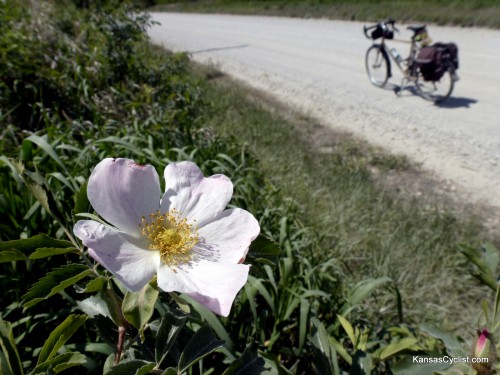 This is Prairie Wild Rose (also known as Arkansas Rose) along a gravel road. The colors of the flower can vary from almost white, as in this example, to a deep, rich pink.
Prairie Wild Rose grows throughout Kansas, and is native to much of central North America. It has been designated as the state flower of both Iowa and North Dakota.
The USGS says to "Look for prairie wild rose in prairies, sandy tame pastures, roadsides, and at the edges of woods. Roses are used as foods (preserves, candies, sauces), drinks (teas, wines), flavorings, and perfumes, and the essential oils have been used as medicines."
KSWildflower.org says: "Rose hips contain high levels of vitamin C and can be eaten raw, stewed, candied, or made into jelly. Many Plains Indian tribes used the hips as an emergency food source. Prairie wild rose is resistant to drought due to roots that can go down more than 20 feet."
Hope you don't mind the frequent flower and plant photos from my 30 Days Of Biking; I love to stop and check them out when I'm riding in the country, and after the browns and grays of winter, the fresh colors of Spring are so very welcome!
Post tags: 30 Days Of Biking 2012