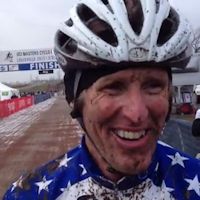 Congratulations are once again in order for Topeka's Steve Tilford, who won his second Cyclocross World Championship today in Louisville, Kentucky, in the 50-54 Masters division.
From CXMagazine.com:
As the sun came out, briefly calming the snow flurries and giving a welcome moment of warmth to the racers, current National Champion Steve Tilford (Tradewind Energy) wasted no time establishing his lead. Though the holeshot went to Gunner Shogren (Pathfinder of WV / Stan's NoTubes), Tilford was ahead of him before the first turn and never looked back, slogging his way through the thick, muddy course and taking the win three laps later with a comfortable lead.
Here's a video interview recorded after the win:
Steve was wearing the national champion jersey from his recent win at the Cyclocross National Championships in Wisconsin.
Conditions were sloppy, as Tilford said on his blog:
This morning went about as well as it could have. It was all pure wattage. I was hoping to get a big gap early and that is exactly what happened. I knew I was good after about 1/3 a lap, so it was fairly enjoyable riding around. As enjoyable as it can be riding 8 mph in 6 inch mud. There were no bike handling skills needed at all.
LocalCycling.com has coverage of other area racers competing at Cyclocross Worlds, a nice contingent of at least 25 riders who made the journey to Louisville.
Congrats to all who are racing!
Post tags: NewsBlog