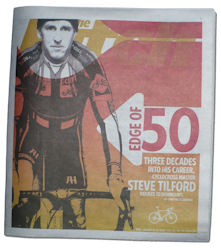 This week's issue of The Pitch, Kansas City's alternative weekly newspaper, is running a feature on Steve Tilford, Kansas' own bicycle racing legend.
Tilford, who lives and trains in Topeka, has been winning races for over 30 years, first in Kansas, then throughout the nation and the world. He's raced road bikes, mountain bikes, and cyclocross bikes, and won in every discipline.
In 2000, Tilford was elected to the Mountain Bike Hall of Fame after having won the first NORBA National Championship in 1983, and the UCI World Mountain Bike Championships Master title in 2000, and innumerable races in between.
These days, Tilford concentrates primarily on cyclocross, and his success has continued, with six National Cyclocross Championships, including the Master 45-49 Male division at the 2008 Cyclocross National Championships in Kansas City.
Here's a brief except from the Pitch article by Carolyn Szczepanski:
A track of scars on the back of Tilford's head shows where a crush of mountain bikers, surging with adrenaline at the start of a race, rolled over his head and punctured his skull. By his count, he has busted his clavicle at least three times on each side and fractured a dozen other bones. For the more minor rips and gashes, though, Tilford has his own bag of sutures and anesthetic. He has learned to stitch up his own wounds.

Acting as his own doctor or sewing up a minced dog leg on a Friday afternoon isn't what makes Steve Tilford eccentric, though. He's a Kansan who has spent 30 years at the top of a sport first elevated by Europeans. Next month, he'll turn 49 years old, but he's still pounding away in a profession that spits out even its most dedicated by the time they're in their late 30s.

For Tilford to stop competing, something will have to take him out — something more disabling than broken bones, something more persistent than the constant questions about retirement. Because, after all these years, the only discomfort that spooks him is giving up the hard-knock life.
Good stuff. Read more