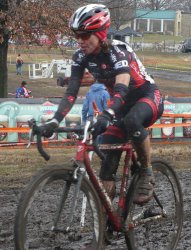 The March/April 2008 edition of Masters Athlete magazine features an article on last December's Kansas City Cyclocross National Championships (Cold, dirty victory), focusing on two local cyclists:
Catherine Walberg and Steve Tilford both hail from Topeka, Kan. The two defending cyclocross national champions train together, and they both race in the 45-49 age group.
The two champions took very different approaches to victory, with Tilford leading his race wire-to-wire, and Walberg (shown on the right) only gaining her lead on the final lap, but both riders emerged victorious.
If you're interested in reading more, Steve Tilford has his own blog, and the Trek Bicycle Store of Kansas City features The Tilford Interview. CyclingUpdate.com offers an Interview with Catherine Walberg.
Congratulations, Steve and Catherine — all hail the victors!
Post tags: Topeka