Iola, a small rural town of 5700 in southeastern Kansas, had a Police Bicycle Unit in the mid-2000's, with three bikes and four officers certified by the International Police Mountain Bike Association (IPMBA). Due to loss of personnel, the unit was disbanded a few years ago.
But now, the Iola Police Department is pulling the bikes out of storage, and sending officers to a IPMBA training in Emporia later this month. The IPMBA training "combines Emergency Vehicle Operations for bike officers with patrol procedures, tactics, night operations, scenarios, and basic bike maintenance and on-the-road repairs. Learn to ride like a pro, avoid crashes, and use your bike to foil the bad guys every time. Off-road riding and bike-specific live-fire exercises may be added at the instructor's discretion." Officers that pass a written test and and on-the-bike field test will receive IPMBA Police Cyclist Certification.
I spoke with Lt. David Shelby, who will be supervising the patrol, and who has been responsible for planning the relaunch of the unit, and outfitting the officers and bikes.
Lt. Shelby told me that the department plans to use the unit to patrol Iola's growing collection of trails, such as the Prairie Spirit Trail, the Southwind Rail Trail, the forthcoming MoPac Trail, and other planned off-road bicycling and walking routes. The bikes will also be used by officers during city festivals and events, routine neighborhood patrols, and on non-emergency calls.
In addition to the planned uses, part of the rationale for restarting the bike unit is to improve the department's community relations, by making officers more approachable and accessible to everyday citizens in the community. Police departments across the country have found that officers on bikes are less isolated than officers in cars, and people are less intimidated, and more likely to interact in a positive way with bicycle patrol units.
Health concerns are also a factor in the revamped unit, the idea being that physically-fit officers are better able to handle the long hours and rigors of their job, with fewer days missed due to health-related issues.
The Iola Bicycle Patrol Unit will join the many Kansas Police Bicycle Patrol Units already in operation throughout the state.
The Iola unit hopes to complete certification and begin operation by early June.
Here are a few photos of one of the Iola police bicycles: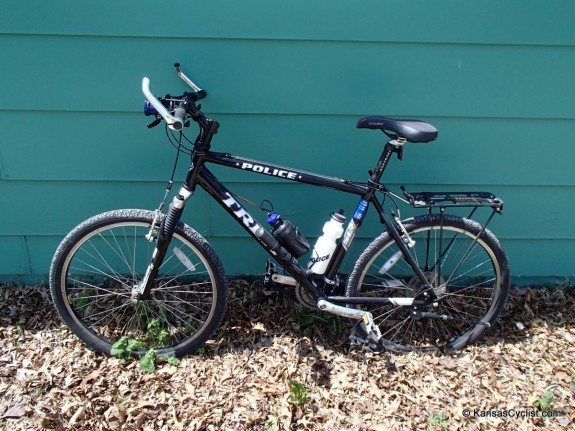 The bicycles are Trek Police Edition Patrol Bikes, with front suspension, 26″ wheels, a rear racks, and red/blue front lights.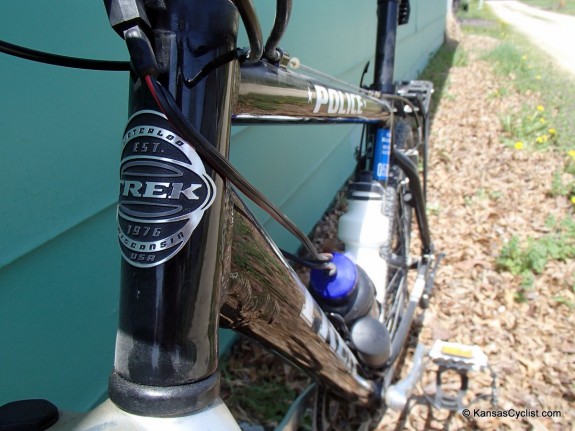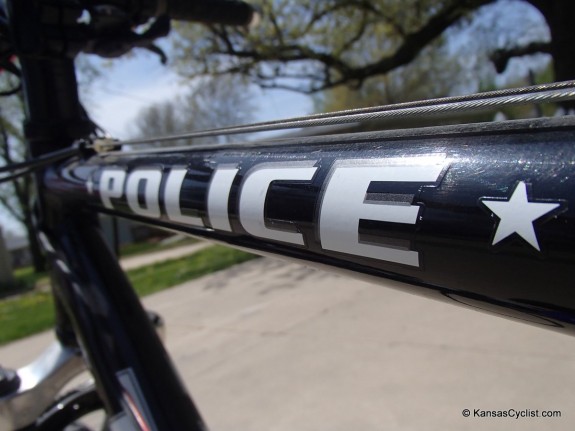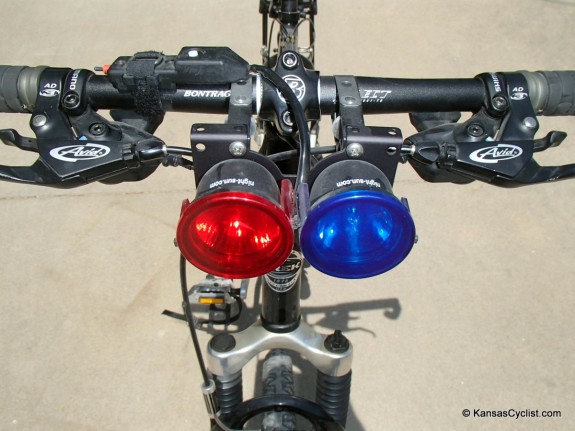 The red/blue front lights can be used as flashing emergency lights, or the hoods can be raised to use them as normal white headlights.
Post tags: Iola