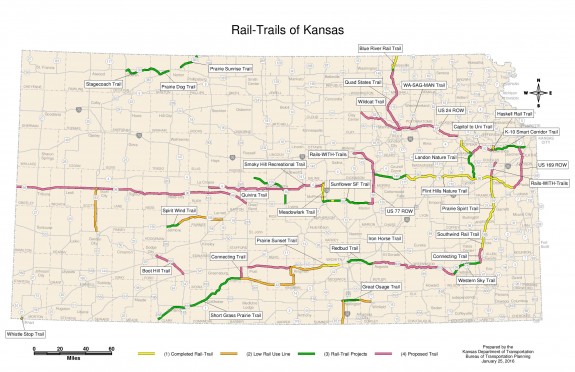 This is an updated 2016 version of the Kansas Rails-to-Trails Map that was originally included with the 2013 Kansas Statewide Rail-to-Trails Plan.
The map was updated by KDOT cartographer Elaine Bryant, in consultation with the Sunflower Rail-Trails Conservancy. It is also available as a PDF.
Compared to the older map, the 2016 edition shows progress on projects such as the Blue River Rail Trail, the Flint Hills Nature Trail, and the Meadowlark Trail.
New trail projects include the Stagecoach Trail, Prairie Dog Trail, and Prairie Sunrise Trail in northwest Kansas, and numerous new trail proposals in western, central, and eastern Kansas, as well as a number of newly-identified low-use rail lines that may be candidates for future rail-to-trail projects that would preserve those right-of-ways as future transportation corridors.
The updated map provides additional documentation of the growing trail network in Kansas!
Post tags: Rail Trail