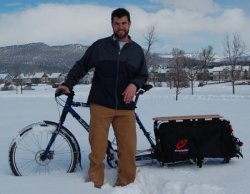 This June, Andrew Henrichs begins an extraordinary journey. He's planning to ride his bicycle to, and then climb, Colorado's "fourteeners" — 54 mountain peaks, each at least 14,000 feet high.
Andrew will ride an Xtracycle-equipped mountain bike to the trailhead of each peak, and then climb to the summit on foot. This completely human-powered journey will entail biking over 1,400 miles and hiking over 350 miles. He hopes to accomplish this feat in 52 days.
Andrew is undertaking this project to raise funds for World Bicycle Relief's Project Zambia, which provides bicycles to community home-based care volunteers, disease prevention educators and vulnerable households affected by the HIV/AIDS crisis in Zambia.
Each bike provided by World Bicycle Relief costs $109, and Andrew's goal is to raise enough money to buy two bikes for each of the 54 14,000-foot peaks in Colorado, a total of $11,772. You can support this cause by making a donation on Andrew's web site.
Andrew is an athletic trainer for Roaring Fork High School in Carbondale, Colorado, and he plans to begin in Carbondale and heading west toward Minturn. From there, he'll travel south down the Sawatch Range, then up through Breckenridge and on to peaks along the Front Range. He'll then turn south to the Sangre De Cristo Mountain Range before traveling through Alamosa and the San Juan Mountains before finishing with the Elk Range.
Read more: Man plans to ride to, climb Colorado's fourteeners for cause from Summit Daily, Biking to and climbing Colorado's "fourteeners" from Biking Bis.