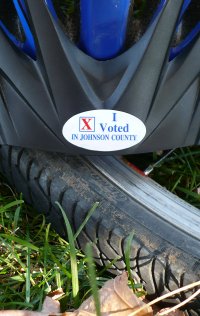 Election Day is here, finally, and many cyclists are taking this opportunity to ride to the polls to cast their votes for the political candidates of their choice.
And perhaps, in a small way, they're casting their votes for cycling itself, showing that bicycles can be used in every aspect of daily life — transportation, recreation, and even performing your civic duty.
My polling place was only about two miles away, and even though there was a strong headwind riding there, and I had to ride alongside a major highway, it was a pleasant enough ride. The crowd at the polling station was light (I hit it mid-morning), and I was in and out in just a few minutes. The total trip, riding and voting combined, was less than 30 minutes.
Here are a few more reports of cyclists riding to vote:
And via MoBikeFed comes news of a >a href="http://www.flickr.com/groups/biketothepolls/" target="_blank">Bike to the Polls flickr group.
If you haven't voted yet, get out there and do it! Ride to vote, vote to ride…