The Kansas Sampler Foundation, whose purpose is to celebrate and preserve the richness and diversity of rural culture in our state, is currently running a contest called the 8 Wonders of Kansas Commerce, which highlights 24 Kansas businesses which exemplify the state.
One of the finalists for the contest is our very own home-grown bicycle manufacturer, RANS, located in Hays, KS, which designs and manufacturers a comprehensive line of state-of-the-art recumbent and crank-forward bicycles.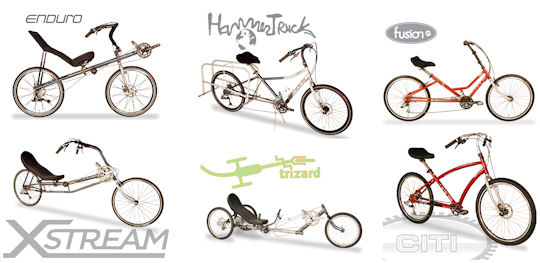 Top 2009 bikes from RANS include the Enduro high-racer recumbent, the Xstream long wheelbase recumbent, the HammerTruck cargo-hauling crank-forward bike, the unique Trizard recumbent trike, and the Fusion and Citi crank-forward bikes.
It's pretty amazing that we have such a world-class bicycle company right here in Kansas, offering amazingly creative and ground-breaking products, and yet they are something of a well-kept secret. Perhaps part of that is due to their location in the western part of the state, and part to the niche nature of their bikes, but the company and its products are certainly deserving of a higher profile, especially in their home state. They truly are a Wonder of Kansas.
In addition to RANS, the contest features such favorites as MarCon Pies of Washington, Baxter's Bait & Tackle in Stockton, and Ringneck Ranch in Tipton.
The contest is designed to be fun and involve the public in learning about rural Kansas businesses. You can vote for up to 8 businesses. Voting is open through February 17th, and the winners will be announced on February 23rd.