There is a new generation of up-and-coming bicycle racing talent, and Kansas is producing its share of young riders. In the following guest post, Ron Wade introduces us to one racer in particular, his son Josh: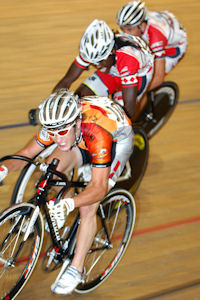 The "Lemond effect" produced names like Lance Armstrong, George Hincapie and various other current riders in the pro peloton.
The "Lance effect" part 1 has produced such a large storm of Junior and U23 racers that we are just now starting to see these first sets of waves crashing onto the national scene at large. There are the usual geographical suspects… Racers coming from Colorado, California, Texas and Pennsylvania.
But there are also some junior racers that are making names for themselves from seemingly unlikely places such as Kansas.
Now, before you dismiss this out of hand and say something like, "the only thing that comes out of Kansas is steers and…" Just remember that Steve Tillford, Scott Moninger and several others are also products of Kansas. You might say, "what kind of racing takes place in Kansas"? Well, for several years the USAC Collegiate National Championships have taken place there as well as the last two USAC Cyclocross National Championships were in the Kansas City metro area.
Some would be very surprised to find that in the Lawrence and Kansas City metro areas combined, there are over 42 weekends a year that you can find a race go to. The Lance effect, coupled with the availability of races in Kansas has produced some significant results on the national lever amongst the junior rankings. In the past few years Kansas has produced some notable young junior racing prodigies. USAC Championship efforts include:
John Funk, Road:
2006 Gold M10-12 TT
2006 Gold M10-12 Crit
2006 Gold M10-12 RR
2008 Gold M15-16 TT
2008 Gold M15-16 Crit
Chris Wallace, CX & Road:
2007 Silver M15-16 CX
2008 Bronze M15-16 TT
Josh Wade, Track:
2008 Silver M15-16 Points
2008 5th M15-16 Omnium
OK, you might want to rewind that a little … a Track National Medal going to some one from Kansas?
Yes you did read that correctly. Do they even have a velodrome track in Kansas? Well, no.
But to explain the whole track thing, we need to go back a few years to the 2003 season. Josh Wade wanted to start road racing and the only team devoted to Juniors was located in Lawrence, Kansas and was being started by Jim Whitaker. Lawrence is a three-hour drive from Josh's home in Wichita. That first year Josh raced in only 6 races at the age of 10.
The local Wichita bike scene consists of the OZ Bicycle Club of over 250, mostly tourist riders. There are two race teams, OZ Racing and River City Racing, a total of around 40 serious fast rider types with about eighteen who actually travel to races regularly.
The local Wichita race organizations only really hold one road race a year and so if you want to race, there are not too many options. The only real choice is to spend three hours traveling to one of three areas: Oklahoma City, Tulsa or the Lawrence and Kansas City metro.
In 2004 a junior's team started in Wichita and by year end the team boasted 22 members. This really was the height of the Lance effect. In 2004, Josh raced in 30 races including his first road nationals and ventured into his first cyclocross races. In 2005 he broadened his racing and added mountain bike races as well having competed in 36 races. He broke his arm mid season which pulled him from going to nationals. Expanding his racing in 2006 with 41 races. In 2007 he went to Pennsylvania and started racing on the track. He found a love for the velodrome and went to track nationals with no real results. With track, came a more diverse set of races to also watch and attend, so this year he contested 88 times.
During school year, he has been known to get out of school early on Friday (school allows him) and head 6 hours south to Frisco, Texas to race at the Superdrome. The Superdrome is considered his "home track". He has been known to race track Friday, Saturday followed by either a road race or Mountain bike race on Sunday. He currently races on the Texas Matrix RBM team (same team where Lance got his start). In 2008, he was awarded the Texas Cup Award for the best Texas M15-16 track racer. He has raced in locations from West to East Coast, Minnesota to Houston, Texas. He trains primarily on the road with the local roadies but also does a lot of motor pacing. In 2008 he raced on over 30 weekends contesting 91 races.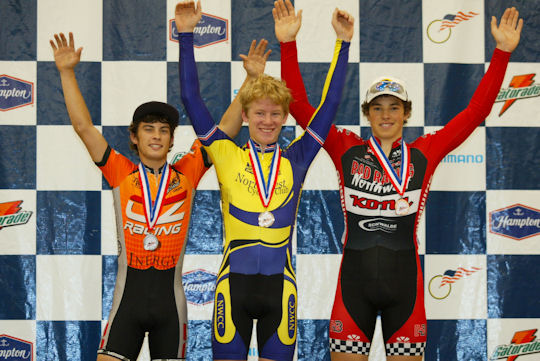 For 2009, his first international race was to be at the end of January up at the Forest City Velodrome in London Ontario Canada. But those plans were derailed by a training crash on January 2. He broke his elbow and is justifiably disappointed. This year will include several trips out to LA, a trip down to Trinidad (maybe), a month at T-Town and who knows what else? I have learned that his race calendar has to be very fluid.
Unlike baseball where you can find a pick up game at any park in any city, for Josh to play in his sport, if it is on the road, he has at a minimum of a 3 hour drive and if it is on the track, it is a minimum of a 6 hour drive. That answers the question on how he was able to win Silver at Nationals, besides the obvious hard work on the bike and a lot of driving.
As we go into the 2009 race season, will we see a Part two or maybe a combined Lance/Phinney effect? My hope is that there will be a continuation of some sort of a Lance effect on the kids 8 years and up. Given the recent doping scandals that have rocked the world of cycling I hope that there is a Lance/Phinney effect. Just as with Lemond and later Lance, for this sport to grow, we need an icon to look up to. Nationally it might be, as I have said, the Lance/Phinney effect, but locally, who do the 8-14 year-olds have to look up to and emulate? I think in Kansas, they do not have to look very far for a standard of excellence. We have a few in our own back yard, John, Chris and Josh.
The next time you see a young junior at your local race, please, stop and encourage them in their racing. You could help turn a down day at the races to a turning point. You just never know who they might turn out to be.
The preceding guest post was contributed by Ron Wade. You can follow Ron and Josh at Twitter.