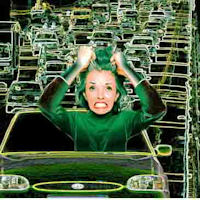 After a long winter, when only the hardiest cyclists brave the cold, the warmth of Spring allows the fair-weather cyclist to ride the roads and streets once more.
It's at this time of the year that motorists issue a collective groan, and begin to pitch hissy-fits in newspaper opinion pages and in the comment sections on newspaper, TV, and radio web sites. "Oh no," they seem to be thinking, "We have to start sharing the roads again."
A sampling of comments from web sites around the region:
Mark Wyatt of the Iowa Bicycle Coalition finds the trend alarming, writing in the Des Moines Register: "The Iowa Bicycle Coalition is disturbed by the comments of hatred and violence in the public forums following the recent bicycle and vehicle road incidents. All Iowans should be appalled by the increasingly hostile rhetoric, from banning bikes because they don't meet a fictional minimum speed limit to actual threats of harm." (Let's focus on safety for bikes, cars)
In a similar vein, Andrew Hartsock, in his Lawrence Journal-World column, recently posted on the topic of comments and commenters as well: "I have to admit, at first I used to get upset reading these items and the comments they spawn. I used to be surprised at the vitriol. Now I try to avoid 'em like a sneezing pig. Why? They're all the same. The tired, old circle repeats itself every time there's a trigger — usually a cyclist getting hurt. And I read enough and spend enough time at the appropriate online sites to know it's not a local thing. It's the same thing everywhere. It's the same old arguments, the same old hatred." (We can't all just get along)
I haven't been in this game as long as Andrew has, and I find the newspaper comments tiresome and repetitive as well. Yet I'm still surprised by the vitriol, by the anger, by the hostility.
I still don't understand the hatred. Do you?
Post tags: Road Rage