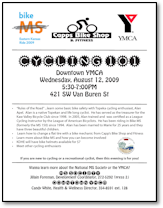 Alan Apel, who we interviewed for episode 3 of the Kansas Cyclist Podcast, is a League Cycling Instructor (LCI) certified by the League of American Bicyclists.
On August 12th, Alan is leading a "Cycling 101" class, in conjunction with the MS Society and the Topeka YMCA. It will be very basic class on Cycling Safety. All you have to is show up.
Cycling 101
Downtown YMCA
Wednesday, August 12th
5:30-7:00 PM
421 SW Van Buren St
The class also includes instruction from a bike mechanic with Capp's Bike Shop and Fitness, who'll teach you how to change a flat tire and perform basic maintenance.
The Kansas Department of Health and Environment will also have bicycle helmets which you can purchase for only $7.
For more information: View the flyer (PDF).
Alan is also teaching a Traffic Skills 101 class for the Topeka Parks & Recreation on October 10th and 17th from 9am-12:00PM. Anyone who is interested in that needs to contact the Topeka Park & Rec Dept at 785-368-3838.