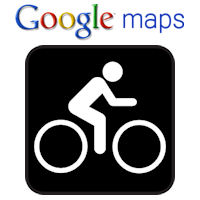 Today there's a new feature of Google Maps: Bicycling directions!
To use the new feature, just go to the Google Maps web site, enter a starting location, an ending location, select "bicycling" as the mode of transport, and the app will attempt to provide you with a route that uses bike routes, bike lanes, multi-use paths, and low-traffic roads.
In a quick test, it worked pretty well, though it routed me onto a high-traffic arterial at one point, which wouldn't be my first choice.
It appears that Google Maps is aware of bike routes, lanes, and trails in Johnson County, Kansas and Wichita, Kansas, as well as the Prairie Spirit Trail. Other Kansas trails (such as the Flint Hills Nature Trail and the Landon Nature Trail) don't appear to be in the Google database yet, nor do bike lanes and bike routes in other Kansas communities.
You can learn more from the League of American Bicyclists: National Bike Summit 2010 – Google Announces Bike Google Maps at Summit Today!
Here's a short video about the new feature:
Give it a try here: