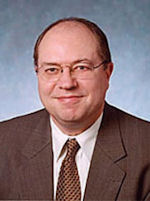 Ken Cobb, president of the Johnson County Bicycle Club and a passionate and tireless advocate for cycling, passed away in his sleep Wednesday night. His death leaves a big hole in the Kansas bicycling community.
Here is Ken's bio from the JCBC web site:
Ken is an attorney by occupation, but is a cyclist by vocation. He has ridden bikes all of his life, starting as a paper boy and then later on road bikes. For the past few years Ken has been both a recreational cyclist and a regular bicycle commuter. Ken rides most of the JCBC and KCBC organized rides each year. He rides the annual MS Bike Ride as a member of the Cutters team, and serves on the MS Bike Ride Planning committee. Ken's primary regular riding group is the Prairie Village Yacht Club.
And an announcement from previous JCBC president, Maggi Hacker, via the JCBC email list:
Ken was a great friend of and passionate about cycling, current President of JCBC, he stood up for what he believed, his focus was on service, he was a brilliant lawyer and lived life fearlessly. He was a great teacher and one of my most valued friends.

Ken will be missed by many. This is a huge loss to us all. I don't have any details of services yet.