Today is April 3, 2012, day #3 of the 2012 30 Days Of Biking challenge: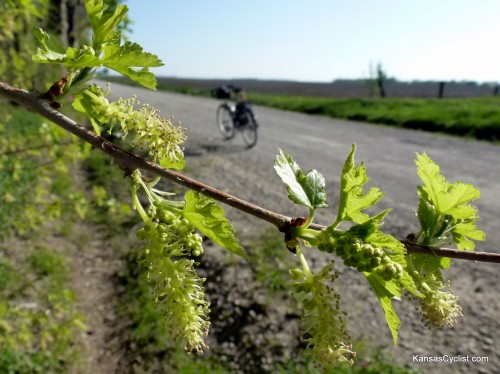 This is a Red Mulberry tree along a gravel road near Gardner, Kansas.
The photo captures the tree midway between flowering and the fruit setting on. Usually the first fruit appear in late May or Early June. The fruit are dark red, almost purple or black. I usually pick them and eat them fresh, alone or with ice cream. At their best, they are plump, juicy, and sweet.
There are also a few White Mulberry trees in this area, and though the fruit looks less appetizing that the Red Mulberries, they taste just as good.
According to the Kansas Wildflowers and Grasses web site: "Native Americans and pioneers ate the fruits raw or dried and used the berries to make juice and jam. The sun or fire dried fruits were preserved for winter use and used as food when hunting."
Sounds like they'd make a good trail mix, along with nuts, raisins, and cranberries!
Post tags: 30 Days Of Biking 2012