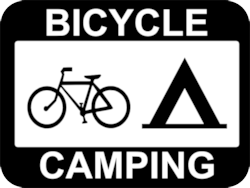 Many cyclists, whether they're bicycle touring across the country, or taking an overnight trip from home, enjoy bicycle camping. There's something about sitting next to a crackling campfire, falling asleep to the sounds of night birds, and waking in the cool morning, that resonates with a lot of cyclists. Just as riding a bicycle connects you with the countryside in a way that cars, trucks, and motorcycles do not, so does sleeping out-of-doors connect us with nature in a way that sleeping in an RV or camper shell cannot.
Of course, the other huge advantage of camping out is that it is incredibly frugal — it seldom costs more than $20, and often costing nothing at all. When you're traveling on a budget, that makes a huge difference. Every dollar we don't spend on lodging is another dollar we can spend on pie and ice cream to fuel our travels!
I've added a new section to the Kansas Cyclist web site that is all about Kansas Bicycle Camping.
There is a directory of well over 200 places in the state where you can pitch a tent. Many of these are at Kansas state parks or reservoirs, others are at community parks, community lakes, or state fishing lakes or wildlife areas. There also quite a few RV Parks that allow tenting.
Amenities, like the campsites themselves, are all over the map. Some offer luxuries such as showers, laundry facilities, and Wi-Fi, while other provide nothing except a flat spot to set up a tent. Most campsites run by the Kansas Department of Wildlife, Parks and Tourism offer restrooms of some kind — either flush or pit/vault, depending.
One surprising thing is that there are nearly 100 places that offer free camping, and that doesn't include the many Kansas city parks that allow cyclists to camp overnight at no cost, as well as other Free Camping Options.
In fact, Kansas has a well-earned reputation among touring cyclists for offering free camping in most city parks. As one city clerk responded when I asked, "We love to have cyclists visit our town! We allow tent camping for cyclists in the City Park at no charge (as a courtesy), along with restrooms, picnic tables, and water. You are welcome to come and enjoy our small community!"
That friendly and welcoming attitude is present in many small Kansas towns, particularly along the TransAmerica Bicycle Trail, where the thousands of two-wheeled travelers provide an important seasonal bump in tourism dollars.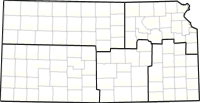 To find a campsite, you can consult the Kansas Bicycle Camping Map, or browse the list of campsites by region:
You can also search by city or county, which makes it easy to find campsites along your planned route.
Here are a few photos from my bicycle camping trips: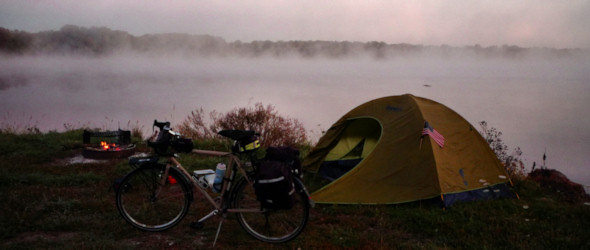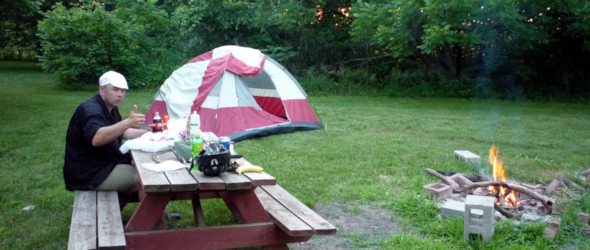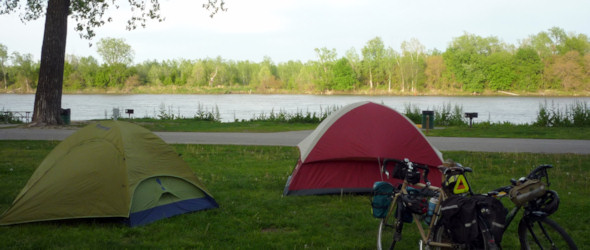 Kansas offers a surprising wealth of free and low-cost places to camp while bicycling, whether you're touring across the country, or taking an overnight bike trip from home. It's a great way to get out and explore your state!
As always, the resource directory is constantly evolving. If you come across some information on this site that it incorrect, please let me know. Likewise, if you're aware of any bicycle camping opportunities that are not listed, again, let me know so I can get it added.
Post tags: Bike Camping, NewsBlog