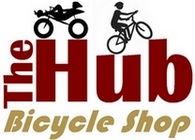 According to the Hays Daily News, The Hub Bicycle Shop in Hays, Kansas closed up shop on Monday, November 26th:
Cyclists in Hays will have to look elsewhere for bike repairs and supplies.

John Schlitter, owner of the Hub Bicycle Shop, 803 Fort, thinks that's a shame.

Schlitter, who lives in Florida, announced Monday he was closing his Hays shop, effective immediately. He was shipping the contents to Florida, where he started a recumbent bike business in 2006.

Schlitter thought he had an agreement in place for the shop's manager to take over the business, but that deal fell through.

"It's a sad situation," Schlitter said Tuesday in a telephone interview from Florida. "I still wanted to maintain the shop, as long as it didn't cost me money, and paid the wages. I had no problem keeping it going as long as it could go. Unfortunately, eventually I had to pull the plug."
Entrepreneurs, sounds like there may be an opportunity there: "If someone is willing to put the hours into (a) shop, run it accordingly, they would make a decent living, very good living. It could be a very profitable business if run right."
So sorry to hear about the loss of this local bike shop, especially in an area with so few bike shops to begin with.
The nearest shop for Hays cyclists (of which there are many) will probably be Golden Belt Bicycle Company in Great Bend, over 60 miles away…
Post tags: Bike Shops, Hays, NewsBlog