Biking Across Kansas, the annual week-long supported tour across the Sunflower State, has announced their 2014 route, which angles across the state from the southwest to the northeast corners: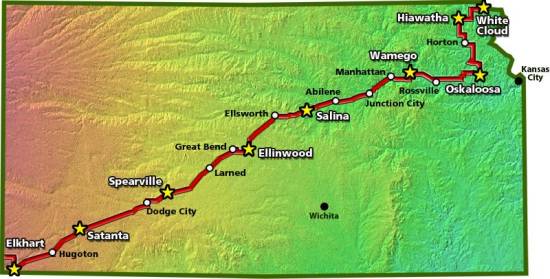 The tour leaves Elkhart, near the Colorado border, on Saturday, June 7th, and arrives in White Cloud, near the Missouri River, on June 14th.
The route covers about 547 miles, with overnights in Satanta, Spearville, Ellinwood, Salina, Wamego, Oskaloosa, and Hiawatha.
Prices for the Biking Across Kansas tour have gone up a bit this year, with the full adult tour now costing $195 (up from $185 last year), and other age groups going up by similar amounts. The single-day cost is now $50 (up from $35).
Despite the increases, BAK is still a solid value, compared to the Bicycle Tour of Colorado starting at $400, Oklahoma Freewheel starting at $295, the Bicycle Ride Across Nebraska starting at $175, and RAGBRAI starting at $160.
Learn more at the Biking Across Kansas web site.
(Incidentally, I love the choice of Salina as an overnight. After last year's odious editorial in the Salina Journal (see Responding to Ignorance), which condescendingly told bicyclists "You're not training for the Olympics. Stay off county roads.", the choice to route nearly a thousand riders through Salina is a perfect chance to demonstrate that bicyclists not only belong on those roads, but can coexist peacefully and safely with motor vehicle traffic.)
Image courtesy bak.org
Post tags: Biking Across Kansas