I rode the Kandango Ride last weekend, a three-day supported bicycle tour through the Smoky Hills and Flint Hills regions of central Kansas. About 175 people participated in the tour, and enjoyed some lovely rural scenery, as well as the friendly small towns and quiet, low-traffic backroads that Kansas is famous for.
It was a great little weekend!
I took quite a few photos, but still missed so much. Many of my shots were taken while riding, so there wasn't time to properly compose the photo or stabilize the camera. So there's a bit of blurriness, contrast issues, and color washouts in some of the shots, but considering they were taken "on the fly" with an inexpensive point-and-shoot camera, they didn't turn out too bad. I hope they convey a bit of the flavor and feel of the ride and the countryside.
Kandango Day #1
The first day was a loop ride, beginning in Salina and passing through Brookville, Marquette, and Lindsborg, for a total of just over 80 miles. There was an optional 100-mile century route that connected to McPherson. I rode the century. Route map.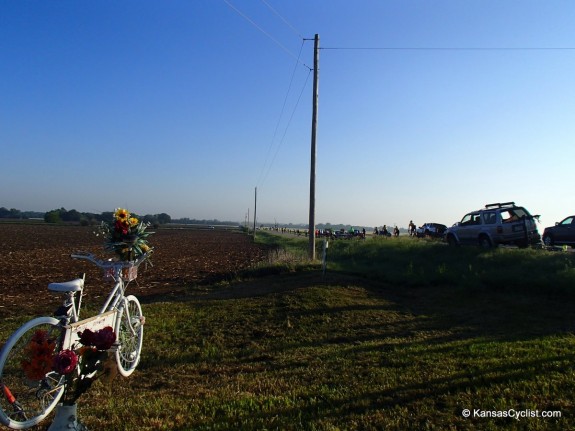 The ride began with a memorial procession in honor of Gail Kline, who was killed by an impaired driver on last year's ride. Gail's husband and twin daughters accompanied the procession outside fo Salina, where a "ghost bike" had been placed by local cyclists.
Read coverage from the Salina Journal.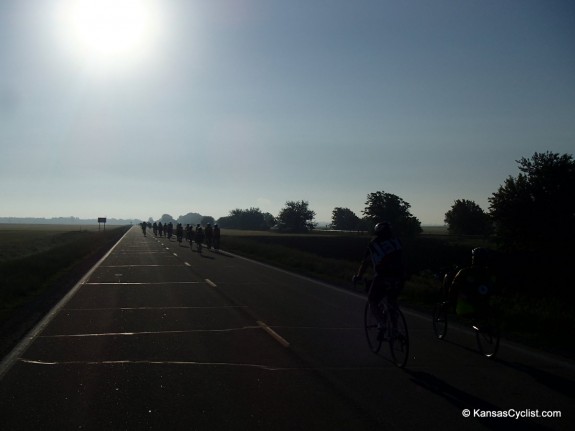 With the early start, there was a still a bit of ground fog of low-lying haze along the early miles of the route.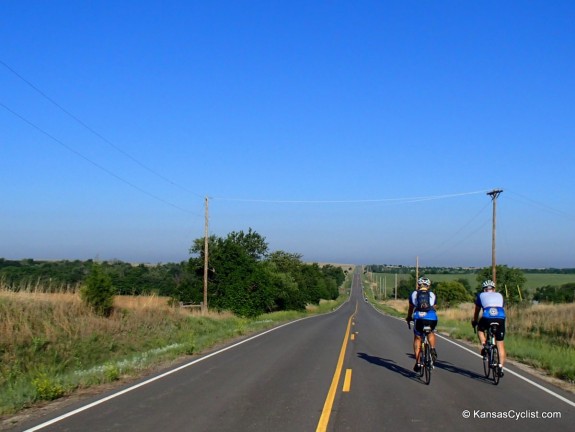 Riding west from Salina, there were a few small rollers.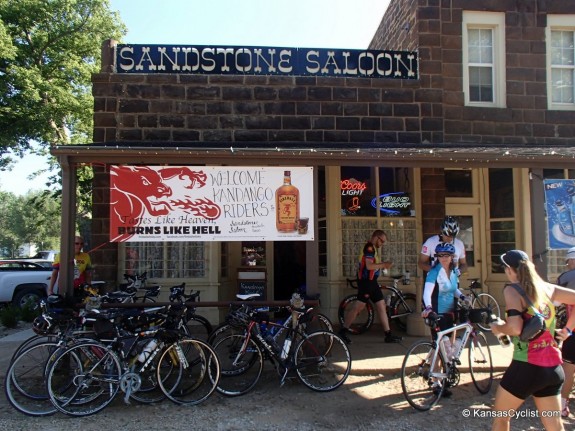 First SAG was at the Sandstone Saloon in Brookville.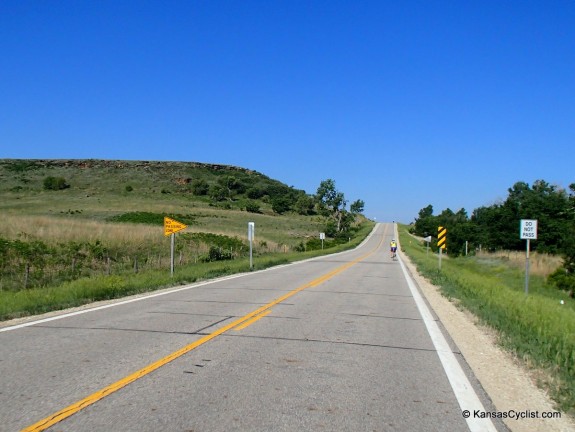 Riding towards Kanapolis Lake.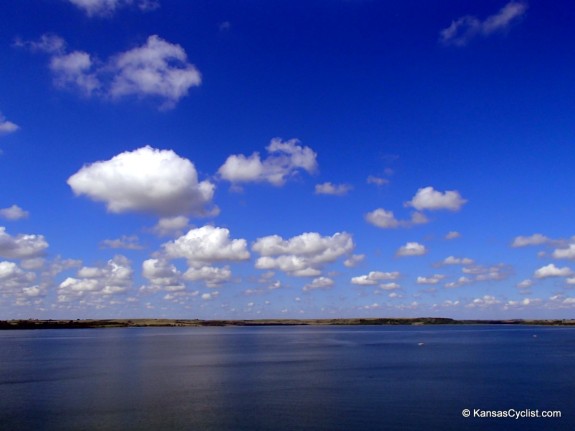 Crossing the Kanapolis Lake dam, with brilliant white cloud reflecting off the blue waters.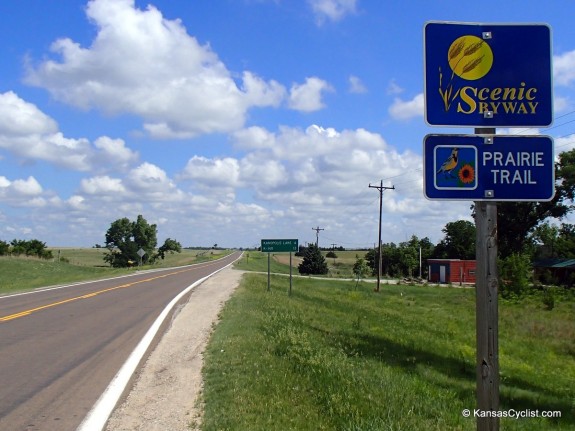 This part of the route was on the Prairie Trail Scenic Byway.
Sun and shade racing across the countryside.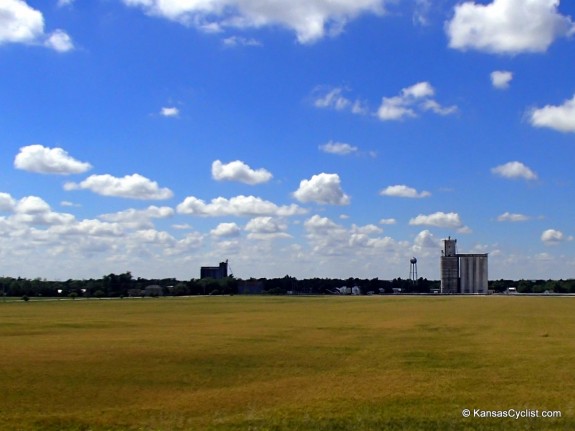 Looking over ripening wheat towards Marquette.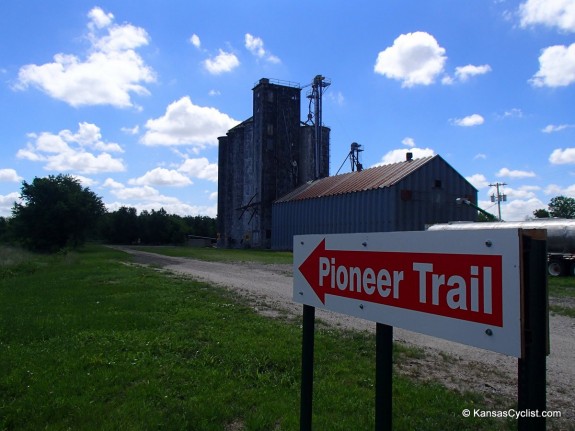 Pioneer Trail in Marquette.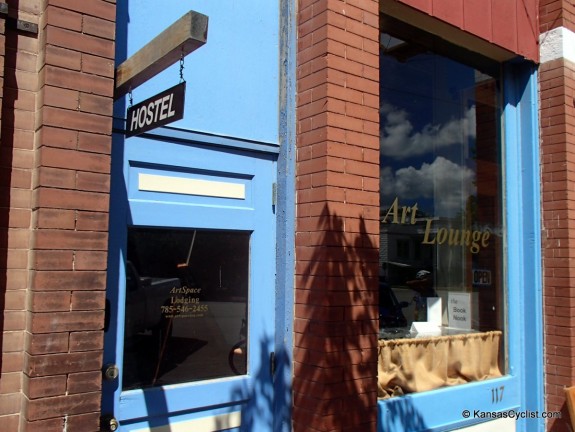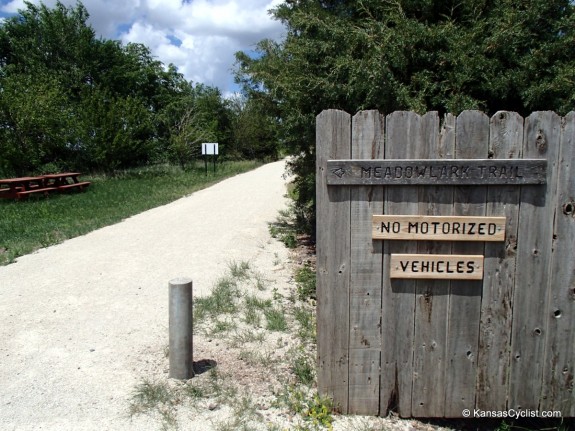 The southern end of the Meadowlark Trail, near McPherson.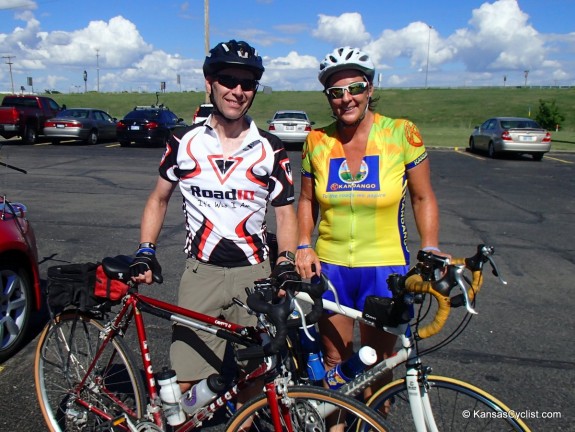 Friday's Kandango Ride was extra special because I had the honor of joining my friend, Lori, for her very first century. Those who've been through this rite of passage know the feeling of accomplishment and elation this brings. She's only been riding since last Fall, and this was also her very first ride in clipless pedals, and her first ride with a proper jersey.
We had good conditions in the early part of the ride — light wind, cool temperatures — but by the midway point time was passing quickly. We stopped at the 100-mile turn-off point and held a quick confab. We had to get back to Salina by a certain time to shuttle the car on to the next town, and we knew it was going to be close. The safe thing to do would have been to take the short route and assure a timely arrival. But we were both feeling good, and she was already psyched up for the century, so we decided to go for it.
And she crushed it. We had a long stretch into a strengthening wind, and a 28-mile section with no services (no water, no convenience stores). On a hotter day, that would have been a real issue, but we both made it to Lindsborg safely, though with empty water bottles. A tailwind, from McPherson to Lindsborg, helped immensely.
We finished up, back in Salina, with over 103 miles, and in time for the shuttle. A 15.1 MPH pace. Well done, Lori!
(Photo taken by friend Doug, who missed the first day of the tour, but joined us for days two and three. Thanks, Doug!)
Kandango Day #2
The second day took riders east, from Salina, through Solomon and Abilene, south a bit to Enterprise and Woodbine, then north to Junction City. Route map.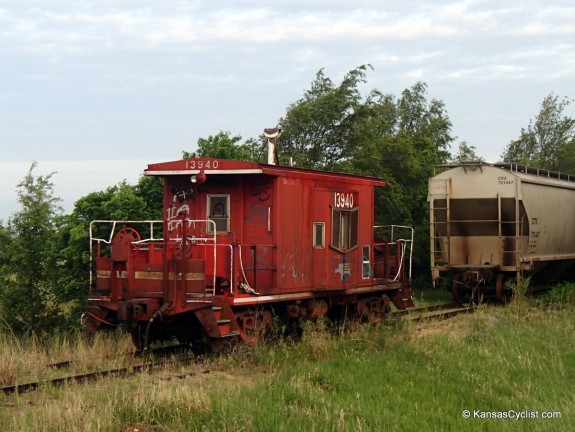 Old railroad cars on a seldom-used rail line east of Salina … a possible future rail-trail?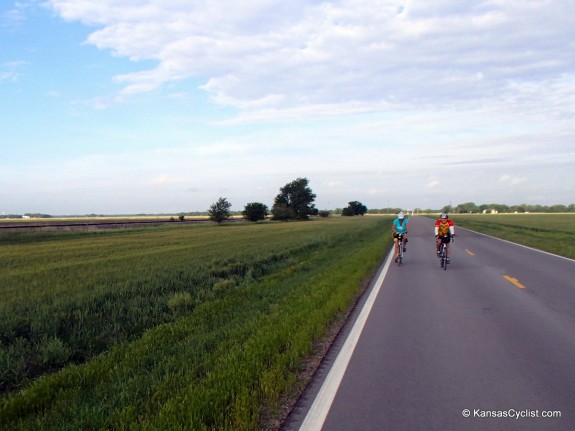 On the flats between Salina and Solomon.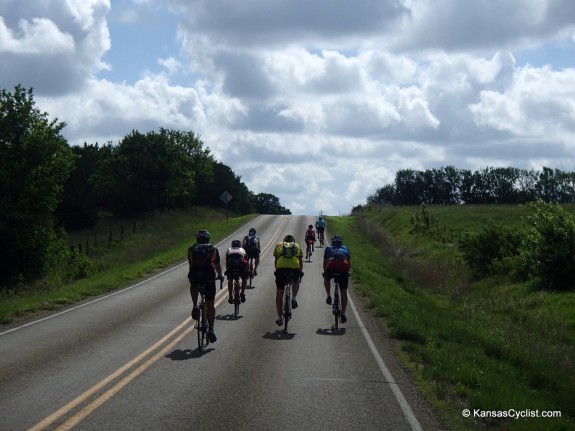 Heading east out of Enterprise.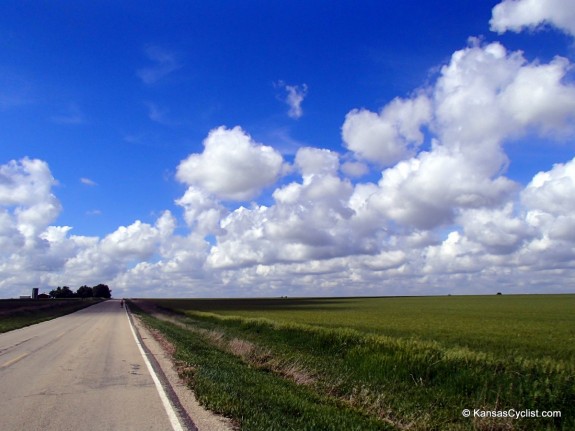 Rolling hills between Enterprise and Woodbine, bounded by ripening wheat.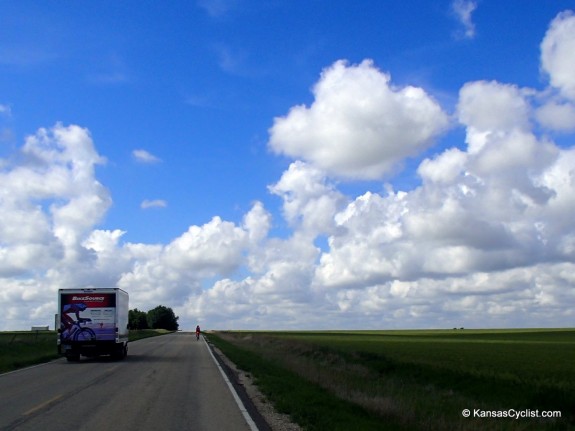 BikeSource helped support Kandango cyclists!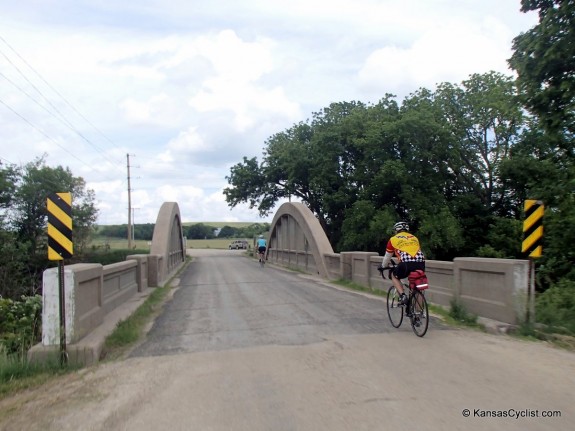 One of the many Marsh Rainbow Arch bridges along the route.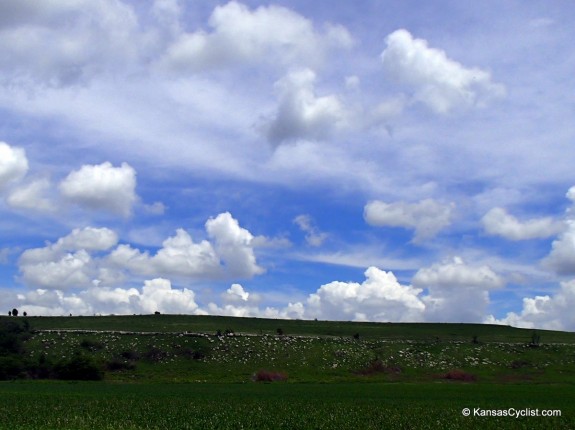 This photo shows the lay of the land … row crops in the valleys, rocks on the hillsides, and pastureland on the ridges.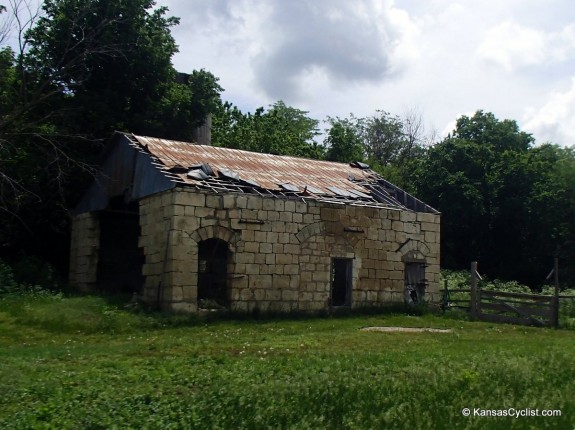 An old stone barn that has unfortunately seen better days.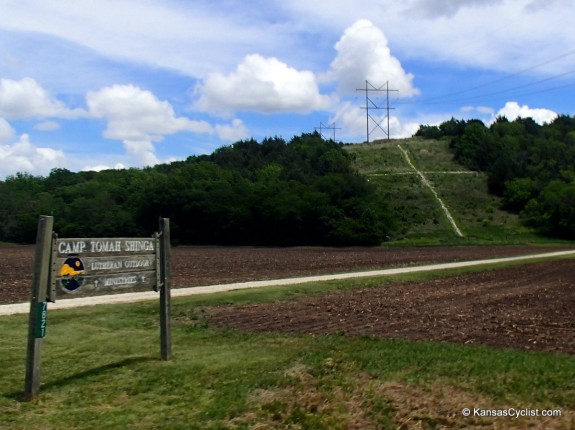 Camp Tomah Shinga near Junction City. Tomah Shinga is a native Kaw Indian phrase meaning "shining water."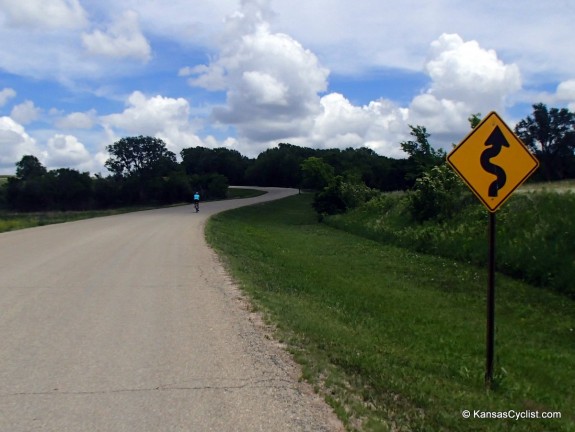 This sign means "fun roads ahead"!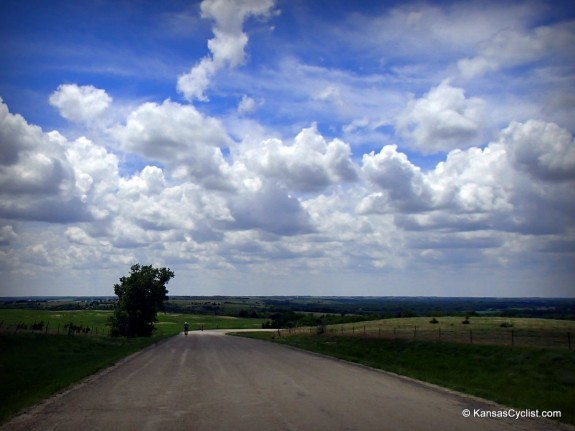 Looking back from atop J Hill Road, near Junction City.
Kandango Day #3
The third day of riding led through the heart of the Flint Hills, from Junction City southeast to Alta Vista, then northeast to finish up in Alma. Route map.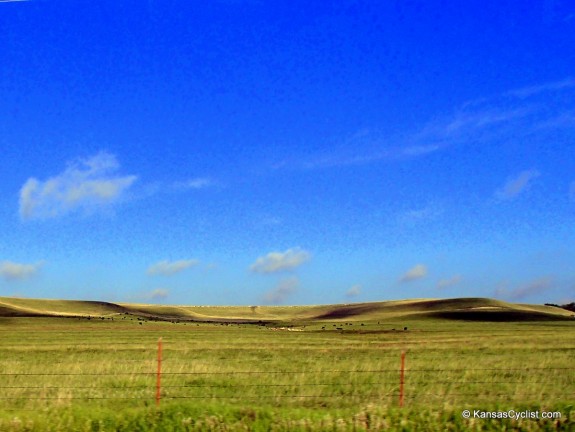 Cattle, clouds, and shadows.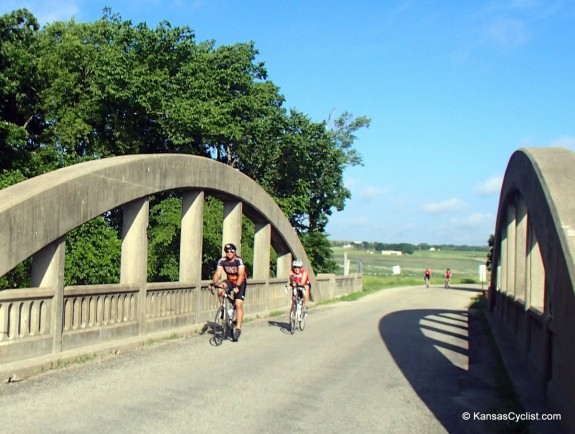 Another elegant Rainbow Arch Bridge.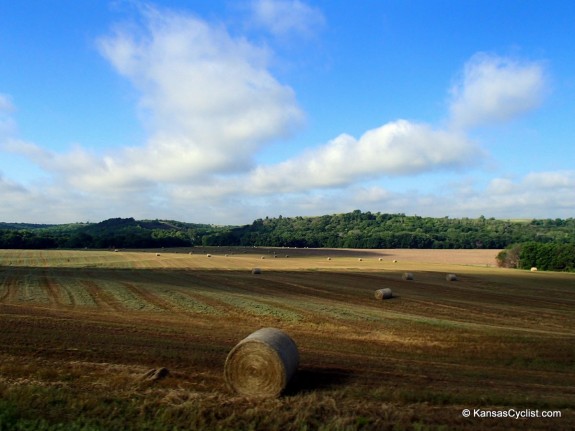 Alfalfa hay along Humboldt Creek Road.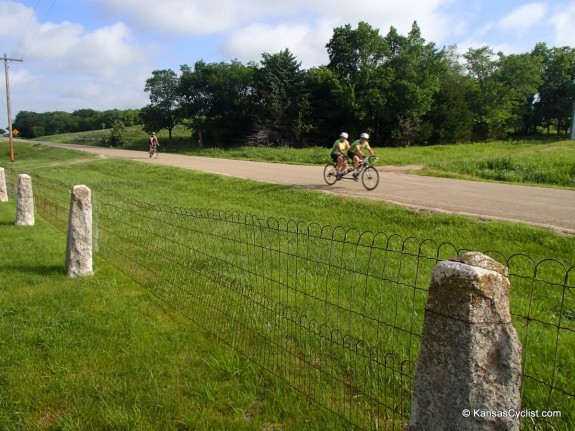 Bicyclists pass by on Humboldt Creek Road.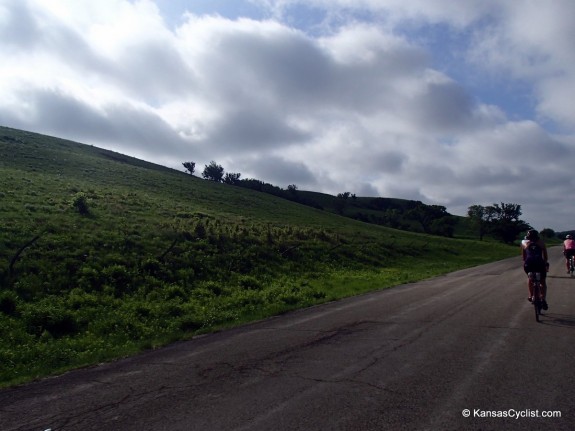 Riding the valleys among the rolling Flint Hills.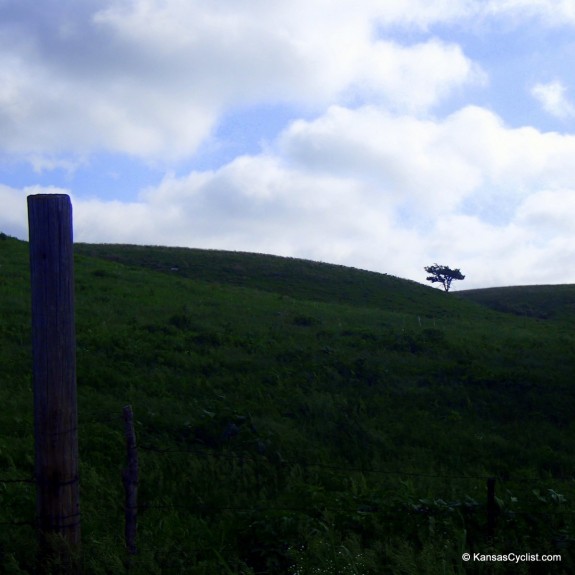 A lone tree in the cleft between two hills.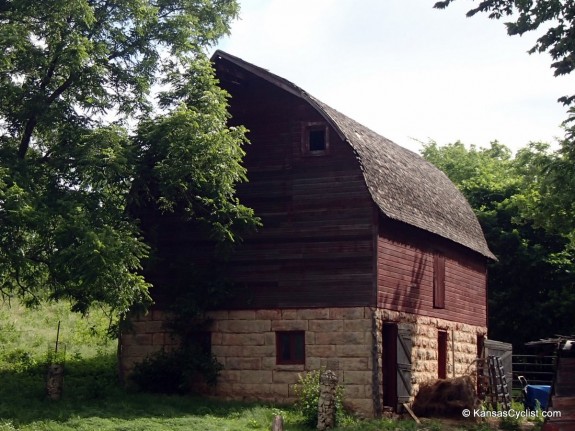 A great old barn along Humboldt Creek Road.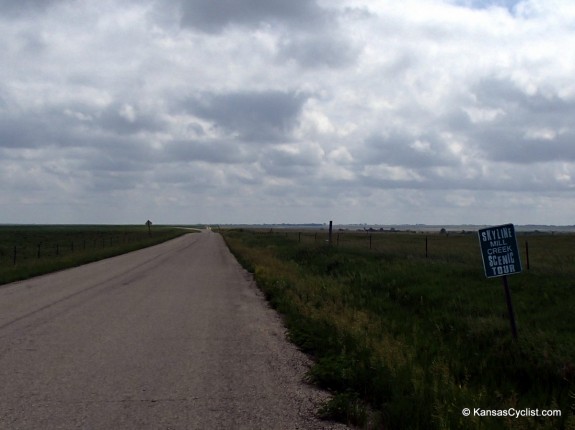 Skyline Mill Creek Scenic Tour, heading east from Alta Vista, Kansas.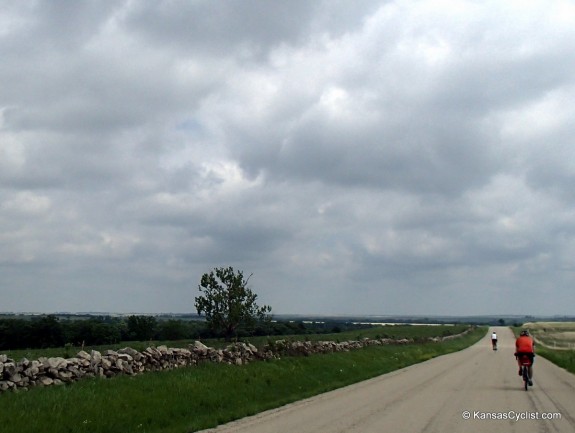 Riding along a stone fence.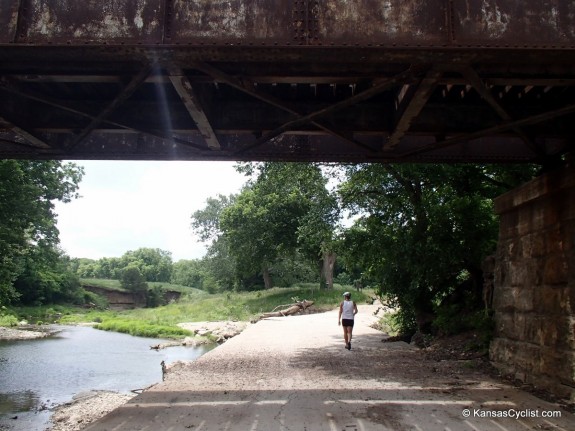 Beneath a railroad trestle at Mill Creek.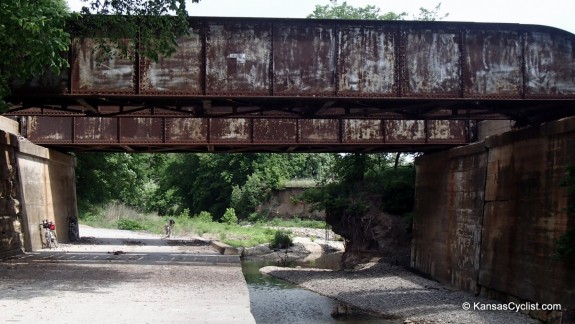 Beneath railroad trestles at Mill Creek.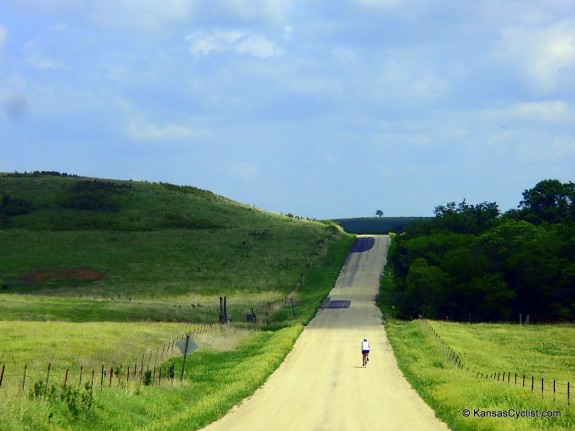 The riding along Old K10 Road is just outstanding, rolling through the awe-inspiring and nearly traffic-free Flint Hills.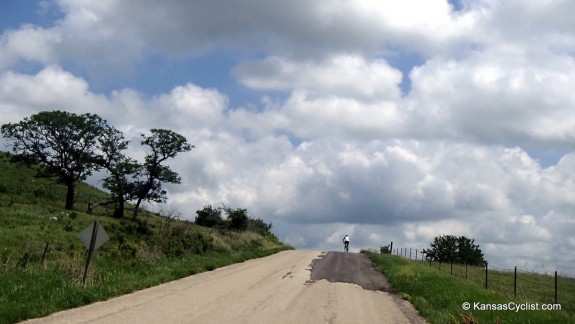 Reaching the top of a small rise along Old K10 Road.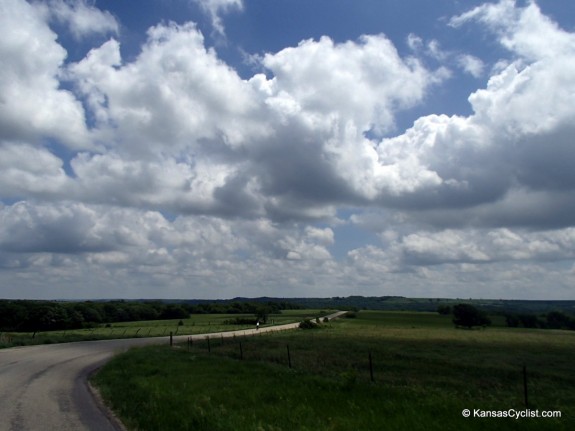 Heading into a valley on Old K10 Road.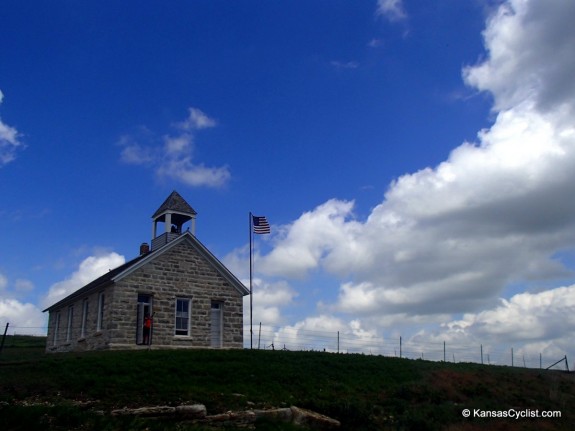 Volland Schoolhouse, a beautifully-restored one-room schoolhouse located along Old K10 Road between Alta Vista and Alma.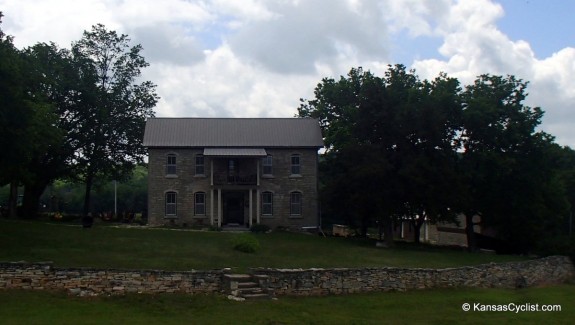 Stately stone mansion along Old K10 Road.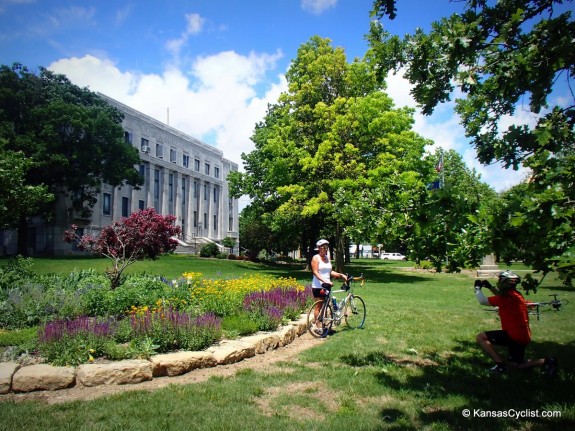 Picture-taking on the grounds of the Wabaunsee County Courthouse in Alma, Kansas. Lovely native wildflower gardens!
Kandango Wrap-Up
If you get a change to ride this tour in coming years, take it! It's a great route — very scenic, very little traffic, friendly folk. It's also an outstanding value.
Since last year's tour was aborted by the tragedy on day one, this was, essentially, the inaugural running of the tour. Most things went well, but as could be expected, there's room for improvement. The car-shuttling system was really awkward, the tenting options were very limited, and there was a lack of SAG stops along parts of the routes.
I know there were some stressful moments for the organizers, and by the end of the tour, they were pretty well frazzled. But they pulled it off, and should be proud. It's not an easy thing to attend to the needs and expectations of a wide variety of cyclists, especially if they've never been in that position before.
They seem like great folk, with the very best intentions, so I expect that most of the issues will be worked out in coming years.
Don't hesitate to sign up for this ride next year!
Personal Notes
I had two bike choices for this tour. My Surly Long Haul Trucker would have been the obvious choice, since it's a touring bike, after all. But I ended up going with my 1978 Puch Cavette II, an old steel 10-speed road bike, since I didn't have to carry my gear on the bike.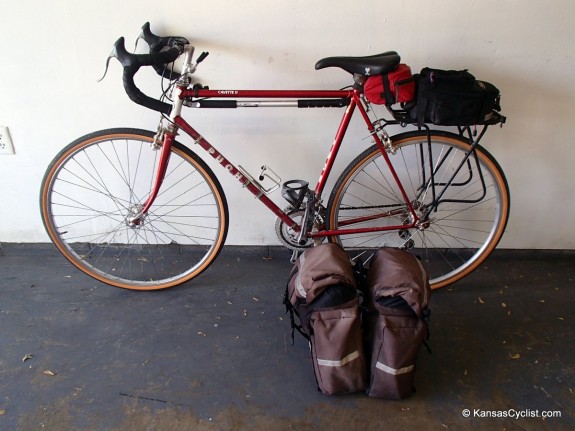 It turned out to be a good choice. I had no mechanical issues (other than some squeaking brake pads), and was comfortable on the chip-sealed backroads. The gearing on the Puch is rather narrow, without a lot of options on the low end. Fortunately, there were no super-steep climbs, so it was low enough to manage.
I do think there should have been an award of some kind for the oldest bike on the tour — because I suspect I would have won!
I'll also confess that it does give me a bit of perverse pleasure to be riding 200+ miles on a 36-year-old, ~35-pound antique, while most riders sported new aluminum or carbon-fiber bikes … and keeping up!
I was initially planning to carry my gear in a duffle bag, but I elected to use my panniers instead. My thinking was that I might need to carry my gear a short distance on the bike, so the panniers would make that easy. Ultimately, I never had to do so, but it would have worked.
The two panniers contained my normal touring load — a small tent, sleeping pad, sleeping bag, toiletries, clothing, and a bit of electronics, plus a few bike tools. Altogether, about 15 pounds.
Health-wise, I had no real issues. I had been somewhat worried about Achilles Tendinitis, which I sometimes experience on long, fast-paced rides, but it didn't crop up, thankfully. Anticipating a modest pace, I rode with sandals and flat pedals, rather than clipless pedals and proper bike shows. That was a mistake, but it didn't prove costly. There was some degree of saddle fatigue, especially on the 100-mile day, but it was manageable. No falls, no crashes.
My only regrets with the tour was that it was over too quickly, and that I hammered through the weekend rather than making it a leisurely adventure tour. There were too many interesting sights that I just didn't have time to appreciate properly.
I didn't get to explore Salina, didn't get to see Mushroom Rock State Park or Coronado Heights, didn't get a chance to visit any museums or historic sites, didn't get to explore any off-road trails. Didn't get as many good photos as I should have.
Oh well, it's an excuse to go back and ride the area again sometime!
Post tags: Alma, Alta Vista, Junction City, Lindsborg, Marquette, Salina