Registration for the 2015 edition of the Cottonwood 200 bicycle tour is open.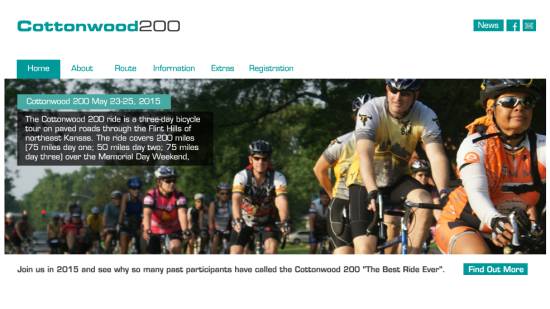 The Cottonwood 200 takes place over Memorial Day Weekend, May 23-25, 2015. The short three-day supported tour begins in Topeka, journeys to Cottonwood Falls, and overnights at Council Grove. In all, it covers about 200 miles — 75 miles on day one, 50 miles on day two, and 75 miles on day three.
Riders spend both Saturday and Sunday nights in Council Grove. Sleeping options include the Council Grove High School gymnasium, tenting on the school grounds, camping at nearby Council Grove Lake, free primitive camping at the nearby Allegawaho Heritage Memorial Park, or lodging at area motels.
The cost for the tour is $130 ($125 for Kaw Valley Bicycle Club members), or $40 per day if you're only riding a partial tour.
Go to cottonwood200.org to check out the website and get registered.
Post tags: Cottonwood Falls, Council Grove, Topeka