2014 was the first full running of Kandango, a three-day bicycle tour on the back roads of central Kansas. Last year's ride ran from Salina to Alma, with overnights in Salina and Junction City.
The 2015 edition of the tour offers a new route with new overnight stops. The route goes from Hays to Junction City, with overnights in Hays, Wilson, and Abilene. The choice of overnight towns this year is particularly appropriate, because these are three bright spots for biking in Kansas.
The community of Hays has been building towards a more bike-friendly future for several years, beginning with the "Bike Hays" master plan, adopted in 2013, the subsequent awarding of federal transportation funds, and implementation of the plan in late 2014. The plan features 25 miles of on-street bike lanes and shared routes throughout the city, as well as off-street multi-use paths. It will be interesting for Kandango riders to see and experience first-hand the city's progress.
The town of Wilson is near Wilson Lake, the home of the Switchgrass Mountain Bike Trail, the only "Epic" mountain bike trail in Kansas, and the top-rated trail in the state.
Abilene is also a community that's making strides towards becoming more bike-friendly, having implement a share-a-bike program, and beginning the planning and construction of a community-wide trail network.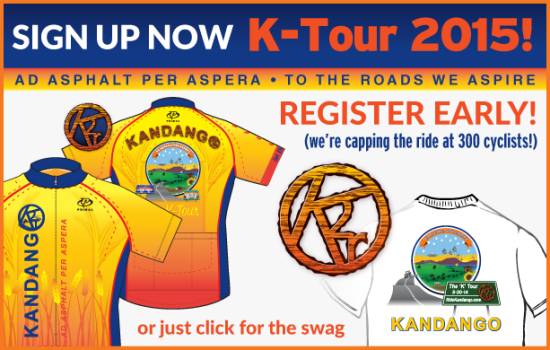 Event organizers have also improved the transportation and support system for this year's ride. There will be buses from Wichita, Overland Park, and Madrid, Iowa to haul riders and gear to the start, as well as a bus to shuttle riders and gear from the end town to the start town, for those using their own transportation to the event. The Buses will also be used to haul the riders gear each day.
Entertainment planned for this year's event includes a block party in Hays, night life on the town square in Wilson, and a Barbeque Extravaganza in Abilene, with all-you-can-ear BBQ and live music.
An intriguing addition to this year's ride is "Area 52", described like so: "The K2r D2r Sag at the end of the World — Plans call for a fun over-the-top, and out-of-context stop at the end of the blacktop. It starts with drones. It is a better kept secret than Area 51 (we bet you never heard of it). Our novel approach to sag support, at the end of the D2r loop, is sure to change the way you think about bike tours."
Visit RideKandango.com for details.
The ride takes place from June 4-7, 2015, and they're capping the ride at 300 cyclists, so be sure to sign up quickly!