Iola, Kansas is hosting the first annual Portland Alley Pedalfest bikes-and-music festival on September 12-13 at Riverside Park in Iola, to showcase the rapidly growing trail network and bicycling culture in Allen County. The new event will feature lots of bicycling, live music, food, and drinks.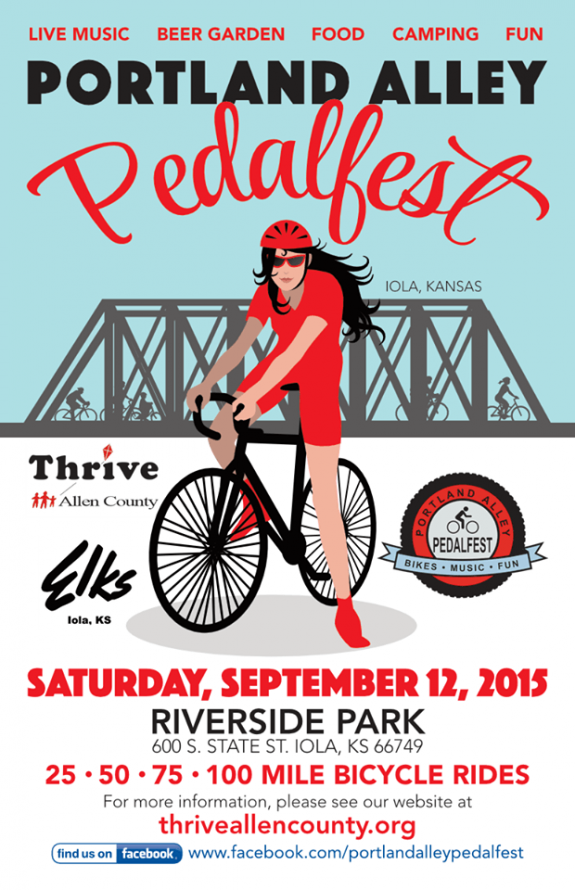 The event will kick off with organized rides on Saturday, with 25, 50, 75, and 100-mile routes, which will include portions of the Southwind Rail Trail, the Prairie Spirit Trail, and the Trans-America Bicycle Route, as well as low-traffic rural roads in Allen, Neosho, and Anderson counties.
Sunday will offer self-guided and self-supported rides in the area, with suggested route maps provided. Routes will include trails, gravel, and pavement, and highlight some of the famous and infamous nearby attractions. There will also be tours of the new Lehigh Portland Trails, featuring both easy wide trails and challenging singletrack on the site of a former cement plant quarry.
If you're planning to ride the mixed-surface routes, an appropriate bike (cyclocross, touring, mountain bike, hybrid) is recommended.
Riders will be able to camp in Riverside Park on Friday and Saturday night, with restrooms, showers and wi-fi provided, as well as nearby restaurants, shops, and laundry.
The Portland Alley Pedalfest is one of a new breed of bikes-and-music festivals, and is the first such event in Southeast Kansas. It's going to be one heck of a party!
Pre-registration is available online, or riders can register on-site. Follow the event's Facebook page for ongoing news.
Note: I've been part of the team that has helped to put together this festival. I'm also part of the crew that is working to create the Lehigh Portland Trails. I'm very excited to show friends and visitors all the cool things that are happening in Allen County, and share the beauty of our region!
Post tags: Iola