I was recently in Northwest Arkansas for a few days, so I naturally brought my mountain bike and got in a few short trail rides:
Black Bass Lake
Black Bass Lake is a small city in Eureka Springs. It has several miles trails that follow the shoreline, and wind through the nearby woods. I was underwhelmed with these trails. There's some nice scenery, of course, but the shoreline trails are rather bland, somehow. It was too wet to ride many of the more difficult trails, so perhaps I didn't give it a fair shake.
Learn more about the Black Bass Lake Trails at MTBProject and Singletracks.com.
Lake Leatherwood
Lake Leatherwood is another Eureka Springs city lake. It's a bit larger than Black Bass Lake, with around 20 miles of trail of various difficulty levels. I rode the Beacham Trail and the Fuller Trail. The Beacham Trail encircles the lake, while the Fuller Trail is a short segment on the west side of the lake. Both trails are beginner-to-intermediate level, with lots of rocks and roots. The Beacham Trail also has several creek crossings. It had rained the night before my visit, so the trails were wet in places. Luckily, the trails are more rock than dirt, so are pretty resilient to damage from riding the wet trails. But with wet tires over wet rocks and roots, there were quite a few sections that I elected to walk rather than ride. There were a lot of hikers out on the trails, along with a few mountain bikers. The trails I rode were pretty rough in spots, really more hike-friendly than bikeable. I'd like to go back sometime and try the more MTB-specific trail options at Lake Leatherwood.
Learn more about the Lake Leatherwood Trails at MTBProject and Singletracks.com, and from LakeLeatherwoodCityPark.com.
Slaughter Pen Hollow
Slaughter Pen Hollow in Bentonville is one of the highest-rated trail systems in the state, with about 20 miles of singletrack that's been built out over many years and several phases of development. The trail various trails that make up Slaughter Pen Hollow are connected by, and bisected by, the Razorback Regional Greenway, a wide paved shared-use path that connects to downtown Bentonville, as well as to nearby cities Bella Vista, Rogers, Lowell, Springdale, and Fayetteville. Although the area roadways are very stroady in general, the Greenway provides a nice off-road way to navigate the sprawl.
The Slaughter Pen Hollow trails are simply excellent. There are trails for all levels of riders, from beginner-friendly easy trails, to more challenging intermediate trails, to expert-level difficult trails. I rode about 8 miles of the network, primarily in phases 2 and 3 (I'd previously ridden parts of phase 1 several years ago). The trails I experienced (a partial list includes "The All American", "Choo Choo", "Boo Boo", "Peek a Boo", "The Rocking Horse", "Big Wheels", "Cry Baby", "Bottle Stopper", "Rattler", "The Urban Trail", "Angus Chute", "Free Time", and "Rocky Ridge") were by and large easy-to-intermediate level, with excellent flow and a well-worn trail surface. I only had to walk a few isolated segments of the more difficult trails.
I was especially impressed with the man-made features on The All American Trail — rollers, berms, log and rock skinnies, elevated trail, and a teeter-totter — as well as elevated sections and bridges scattered throughout the system. Of special note was the "playground" section in the Phase 3 area, with lots of rollers, table tops, banked turns, and a very fun slalom downhill flow trail. All these man-made features integrated seamlessly with the natural-surface trails, making for great variety and a gradually-increasing level of difficulty that helped to build confidence over time.
I do hope to go back and ride the entire Slaughter Pen network all at once. That'll be quite the workout!
Learn more about the Slaughter Pen Hollow at MTBProject and Singletracks.com, as well as at the official trail web site at SlaughterPenTrails.com, and from the Friends of Arkansas Single Track trail group.
IMBA World Summit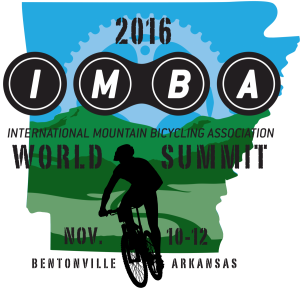 In a wonderful coup for the region, the International Mountain Bicycling Association (IMBA) has announced that they are holding their 2016 World Summit in Bentonville on November 10-12.
From Whistler, British Columbia in 2004 to Steamboat Springs, Colorado in 2014, IMBA's world summits always draw a worldwide audience. Each host community adds its distinct flavor, as leading representatives from mountain bike advocacy groups, land management agencies, and the bicycle industry gather to share success stories and plan the future of mountain biking.

Featuring Northwest Arkansas and its iconic trail systems within the Ozark Mountains, participants will experience the rugged beauty of this area exploding with mountain bike enthusiasts and see the unique trail connectivity that showcases both the bustling downtown city and the scenic Ozark landscape.

The World Summit program includes keynote speakers, educational sessions, an expo, networking and—of course—plenty of time to explore local trails.
This is exciting news for the region! The Arkansas trails, especially in Northwest Arkansas, have been building a stellar reputation for many years, and it's great to see that mountain bikers from around the world will get to experience this fantastic singletrack for themselves. Hoping to be there in November!
And yes, I was taking notes, hoping to take some of the trail ideas back to my hometown trail system, the Lehigh Portland Trails in Iola, which hopes to officially open this summer.
Post tags: MTB