The Kandango K2R Bike Tour is an annual Kansas bicycling event. Previous editions of the tour were of the traditional point-to-point supported touring variety — sleep in one town, ride to another, repeat, with the organizers providing ride support and hauling gear from town to town.
The 2017 edition was structured a bit differently, with all rides starting out from a single community, heading out in different directions each day. This not only makes the logistics a bit easier on the organizers, but allows riders to more thoroughly explore an area, as well as simplifying transportation for the riders themselves. It's a great concept.
For 2017, the hub of the ride was Manhattan, Kansas: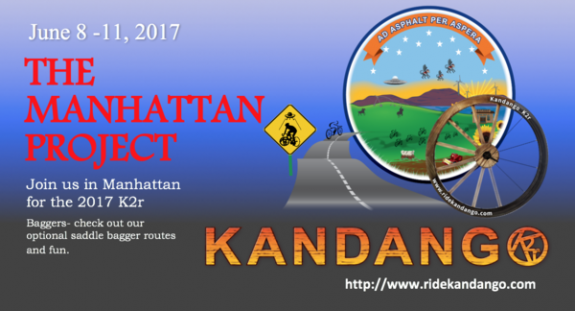 Manhattan was a good choice in a lot of ways. Situated in the northern Flint Hills region, the locale offers excellent routes, with challenging rolling hills and scenic terrain. The community is large enough to provide numerous lodging, food, and entertainment options.
Once again, I rode the tour with my friend Lori. We headed out a couple days early to get in some extra exploring. Starting from Iola, we drove west on US-54, stopping first in El Dorado to ride the bike path and visit El Dorado Lake: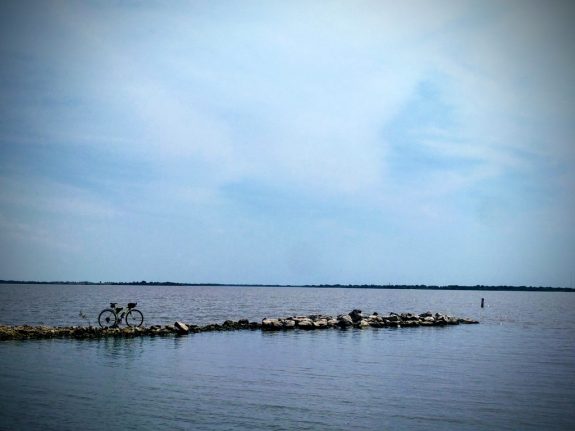 We continued west, stopping to visit the passionate folk at Newton Bike Shop (check out their crowdfunding campaign to improve their touring cyclists hostel):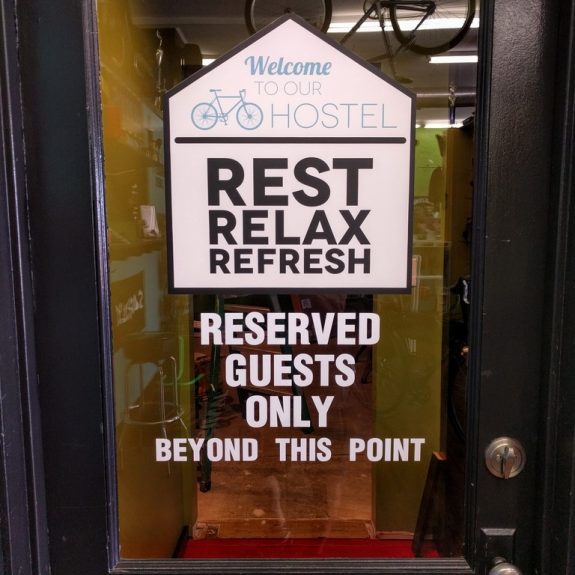 After a great lunch at The Breadbasket, we moved on to Lindsborg, where we rode the Välkommen Trail, then set up camp at the Old Mill Campground.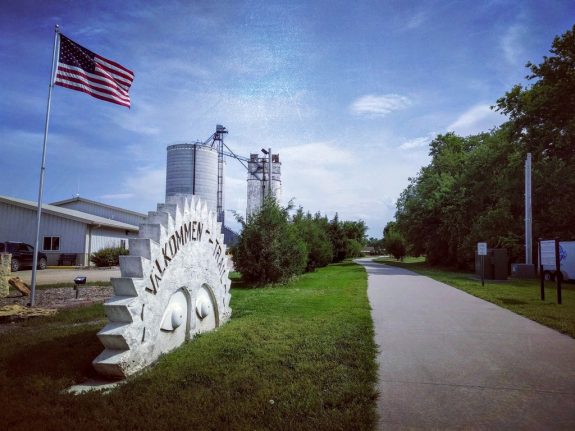 The next morning, we rode out to Coronado Heights, which offers an extraordinary view of the surrounding countryside: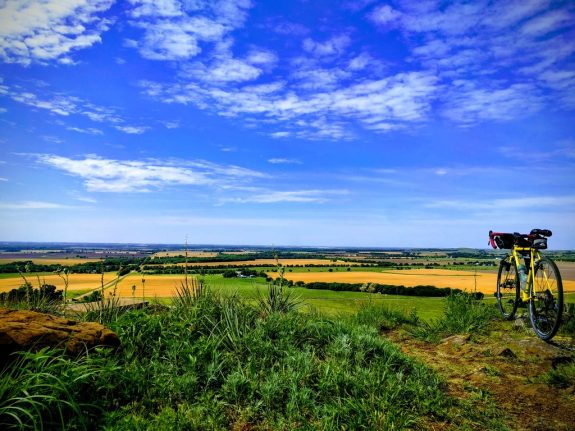 From there, we drove north, stopping for a quick hike at Rock City before continuing on to Concordia. Concordia is one of those Kansas towns that I've been meaning to visit for years, but had never gotten around to doing so. It's a rural town of 5400, and my impression is that it's reasonably prosperous. It has no bicycling infrastructure to speak of, other than a few old-fashioned downtown bike racks. But it has a comprehensive street grid, some beautiful terrain, and even some nice hills. We camped at their Airport Park Campground, which is clean and convenient, with water, electricity, and restrooms (but no showers), but the traffic noise from nearby US-81 is pretty bad. I'd like to go back and explore more sometime!
The next day we drove on to the start of Kandango in Manhattan, with stops in Clyde (great little arboretum!) and Clay Center (a neat city park).
Kandango Day 1
The first day's route was to the southwest. Crossing the Kansas River, we rode about 33 miles before the first stop, in Alta Vista. After a quick bite at the local cafe, it was on to Dwight, and then White City, where there was lunch and music at the city park. From there, we rolled north with a tailwind, through Skiddy and on into Junction City, where a bus took us back to Manhattan.
In total, it was about 75 miles, and included the iconic "J Hill Road". I don't know why, but I love this nearly mile-long climb. It's followed by a sweet downhill into town.
My Strava activity: Kandango Day 1
Kandango Day 2
The second day took us northeast. With a forecast calling for winds of 20-25 MPH from the south, we knew we'd be facing a tough headwind on the way back into town. The strong tailwind felt mighty fine as it pushed us north, out of Manhattan and into the steep hills east of Tuttle Creek Reservoir: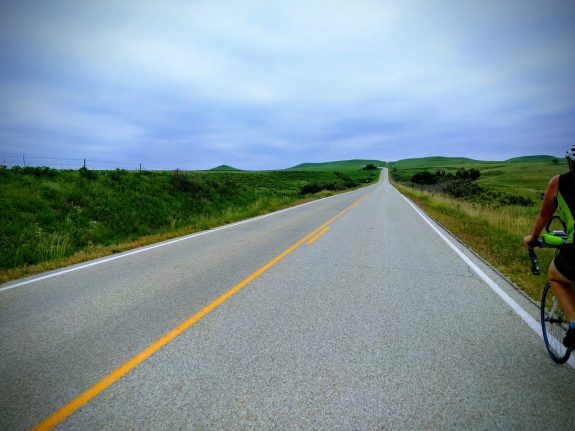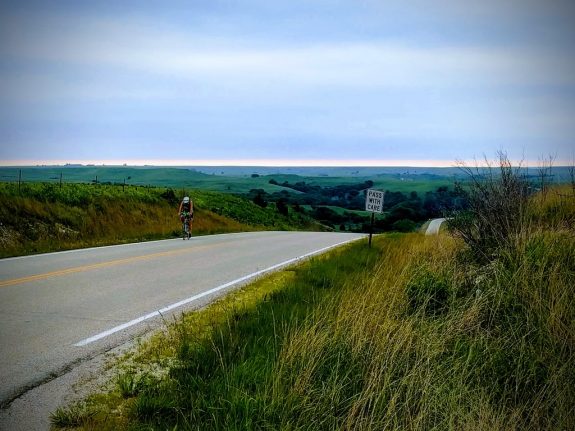 The country was just absolutely beautiful, green and full of life. After stops in Olsburg and Westmoreland, we headed south into a ferocious headwind. It was tough!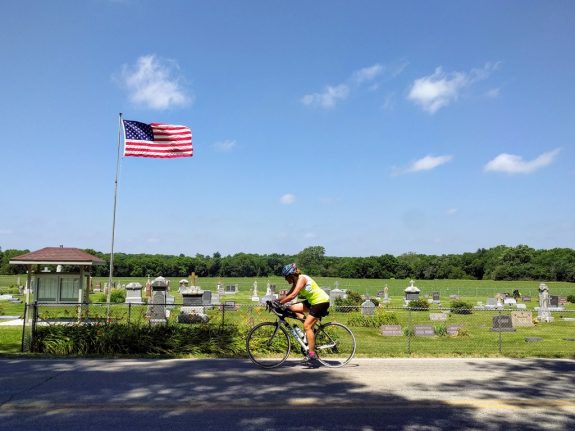 But eventually we turned east to Wamego, then south for a bit, then west to Zeandale, and pie at the last rest stop. Dang, it was good! After a final push back to Manhattan, we finished up with about 78 miles. Whew.
My Strava activity: Kandango Day Two
Kandango Day 3
Day three's route was to take us south and then northeast. The wind was blowing even stronger than the day before. We rolled out into the teeth of that wind, struggling to maintain 10 MPH. After 7.5 miles we took a break and evaluated. Neither of us really wanted to do another 20-some miles of headwind, so we pulled the plug and turned back, breezing into town with ease. It was only 15 miles total, but it was enough.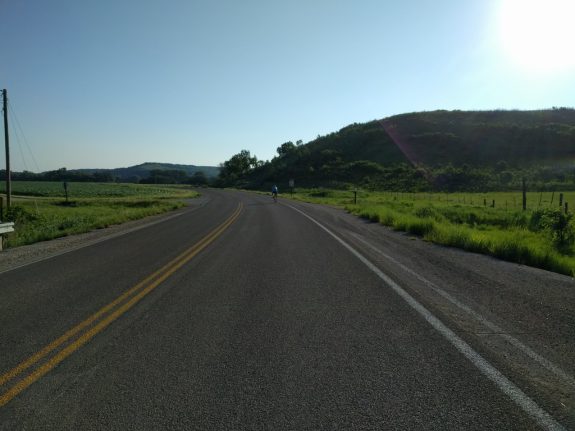 Kandango Wrap-Up
Once again, Kandango was a memorable and enjoyable experience. This year's wind made it really challenging, but gratifying. Kudos to the ride organizers!
I think the "hub" idea is a good one. Manhattan was a solid choice. I do think it was just a bit too large of a community for Kandango, though. With so many lodging and dining and entertainment options, it was kind of hard to feel connected to other riders. The lack of a mass start each day (everyone took off on their own at different times) contributed to that lack of cohesiveness, as did the lack of camping options. I think basing the ride in a smaller community would work better, in this regard.
One personal regret with the ride was that I was not able to take advantage of the gravel route options. That would have been fun. Oh well, another year, perhaps.
Looking forward to Kangando 2018! Won't you join in the fun? Watch for the registration announcement in January.
Post tags: Manhattan