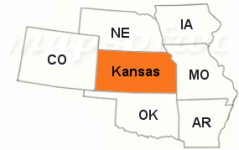 Kansas Cyclist, in addition to providing a comprehensive collection of cycling resources for the state of Kansas, now also offers resources for our neighbors as well.
Resources are provided for the following states:
Just like Kansas, each of these states offers a rich assortment of bike clubs, bike shops, bike trails, advocacy organizations, and bicycling events. Don't expect these listings to be completely comprehensive, but I've tried to hit the highlights, and expect to improve on these over time.
View the complete list of regional cycling resources.
Also, note that there is are individual calendars for all the states (Arkansas, Colorado, Iowa, Missouri, Nebraska, Oklahoma), as well as a regional calendar that contains events from the entire region on one page. There are also individual RSS feeds for each of these calendars (just look for the orange feed symbol (

) to the right of the page titles.