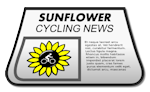 The Sunflower Cycling News is a periodic publication of Kansas Cyclist, featuring a compendium of hand-picked bicycling-related news items from Kansas and neighboring states.
The following is a recap of recent bicycling news from the region, as well as a look ahead to upcoming rides, races, and bicycling events coming up.
---
Bicycling News from Kansas
— "Winter cycling has an adventurous quality to it like no other time of the year." ~Eric Benjamin, in the Emporia Gazette.
— At Kansas State University, "The most common crimes around the Union are bike theft and riding illegally on the sidewalks", according to the K-State police.
— The Parsons Police Officers Association has announced the date for their 17th annual Osage Prairie Tour: April 26th in Parsons, with 3, 14, 25, 40, and 75-mile route options.
— Also from Parsons: The Parsons Recreation Commission is offering an informal bike share program, with a seven-bike fleet. $10 deposit per bike is required.
— The Kansas Pride Committee in McPherson hopes to "help with a variety of ongoing projects in the community, including expansion of the hike and bike trails and a proposed dog park".
— Bicycle offers best view of Kansas: "I have no doubt that the best way to see Kansas is on a bicycle. Thousands of others must agree, as Biking Across Kansas sells out in a few days every year. Anyone who has ever been anywhere in Kansas other than on I-70 knows that the state has extremely interesting geography and that the best way to see it is in slow motion with the opportunity to make lots of stops to take photos, or even to do some drawing from the side of the road."
— The Sunflower Rail-Trails Conservancy is actively seeking people in Neosho and Wilson counties to help turn a railbanked right-of-way into a finished trail. If you can help, please do! See: Scouting the Western Sky Trail
— There's a new group in the KC area: Kansas City Adventure Cycling Club, focused on bicycle touring and bike overnights
— Campus minister provides wheels to students in Pittsburg
— Topeka has submitted their application for 2014 Transportation Alternatives funding for Phase II of the Topeka Bikeways plan: "Infrastructure for Phase II involves sharrows, dedicated bike lanes, intersection connections, bike boulevard signs and sidepath construction. We are requesting approximately 205 signs, 6 overhead signs, and 193 pavement marking symbols."
— You can give them racks but that doesn't mean they are going to use them… Oops, someone did a really poor job installing those bike racks!
— Upcoming Kansas road racing opportunities at the Spring Fling Criterium Series (February 22, March 1, March 8, March 15, and March 22) and the ALS Road Race Series (March 2, March 9, and March 16).
— The Anderson County Advocate reports that Bikes are on their way back: "Garnett police officer Jason Sumner told city commissioners he plans to resurrect the city's summer bicycle safety program and develop a voluntary bicycle registration. The safety program will include a bike rodeo and a helmet check for kids."
— Kansas cycling legend Steve Tilford of Topeka has been Racing Bicycles for 40 Years: "When I started out, I had no preconceived ideas about how long I was going to race. I just knew it was what I wanted to do and I wanted to get good at it. I still feel that way. I don't race bikes for any one reason. There are thousands."
— Riding On The Sidewalk Could Get You Time in The Woodshed
— The 2014 Tour de Vino has been announced, for April 26th in Miami County, Kansas. Last year's inaugural event was great fun!
Regional Bicycling News
— Little Rock bicyclists want more bike lanes downtown: "We already have designated areas to ride but it's just like maybe one road or two roads so to have it all through downtown would be really awesome."
— Fayetteville City Council approves Mount Kessler purchase: "The property includes over eight miles of hiking and mountain biking trails with spectacular views of the city. The hillside property, with its network of trails and open space, creates almost 600 acres of parkland."
— ATV Riders Warned to Stay Off Corps Mountain Bike Trails in Arkansas. "Violators are subject to penalties such as monetary fines to a possible appearance before a federal magistrate."
— "Fort Collins hikers and mountain bikers, rejoice. Some of your favorite trails are open again."
— AAA Colorado cares about cyclists
— "Perhaps it's time for 'cyclists' and 'motorists' to drop the labels, sit in a room together as citizens and learn how to coexist on Colorado's roads. Because if there's one given, people are still going to ride their bikes to work."
— Bring bikes, beer for Winter SUX in Sioux City, IA.
— Muscatine, IA hailed as "a national leader in creating streets that work for everyone."
— Mason City, Iowa is launching a "transformational" 15-year plan to put in a bicycle and pedestrian trail system.
— Kansas City, MO may finally have found it's long-sought connection to the Katy Trail: Jackson County signs deal to purchase Rock Island line for Katy Trail connection and commuter rail, Bold move forward on commuter rail, trails
— Bike delivery services springing up around St. Louis: "In less than a year, the number of local bike-based restaurant delivery services has quadrupled."
— In Columbia, MO: "Forced off my bike by epic snows, unwilling to give in to the car, I pushed past a self-imposed limit and walked the 4 miles to work for the first time. It is so much fun that I walked to work every day that week and intend to keep going."
— Ozark National Scenic Riverways moves to allow mountain biking on some trails: "This could open up access to a very large, very scenic area in south-central Missouri for mountain bike use."
— The University of Nebraska-Lincoln wants to work with the city to expand bike lanes.
— Trails supporters mark 25 years of progress in Lincoln, NE: "The trails system is 131 miles in length, and includes 85 miles of commuter/recreation trails, and 46 miles of hiker/biker trails in parks."
— Cycle Stillwater, a new app that allows cyclists to share information with fellow cyclists and the city, was featured as one of "The Best Things Oklahoma Towns Did in 2013.": "The app collects data from cyclists, including bike routes, areas needing improvement and other helpful information for riders."
— In Tahlequah OK, the city spent $9,000 to place tiny non-standard symbols on city streets. The symbols, which are similar to sharrows, and read "Share The Lane", are only three feet long (standard sharrows are over 9 feet long).
National/International Bicycling News
Bicycling Inspiration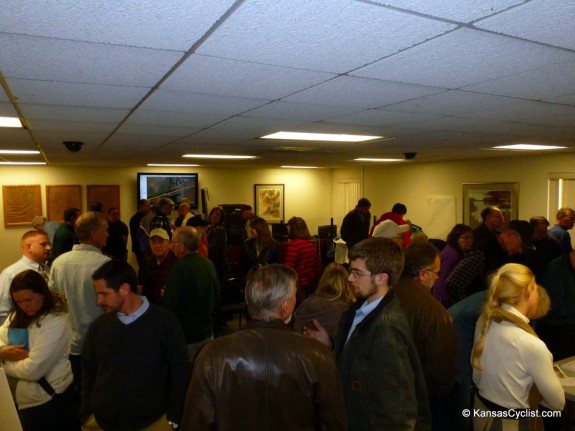 It was a packed house at the Flint Hills Nature Trail design workshop in Ottawa on February 20th. Great to see so much enthusiasm and support for trails!
More meetings are scheduled for March 10th in Osawatomie and Osage City (details to be announced soon).
---
If you have a news item or upcoming event you'd like to share, please contact Kansas Cyclist with details.