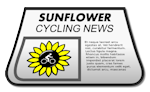 The Sunflower Cycling News is a periodic publication of Kansas Cyclist, featuring a compendium of hand-picked bicycling-related news items from Kansas and neighboring states.
The following is a recap of recent bicycling news from the region, as well as a look ahead to upcoming rides, races, and bicycling events coming up.
---
Bicycling News from Kansas
New Bike Racks Coming to Downtown Pittsburg
A large meadowlark, a series of flames and two other unique bike racks designed by local artists will grace Pittsburg's downtown this spring. Last year, Pittsburg Parks and Recreation received a grant from Live Well Crawford County for bike racks in the downtown area, but a few phone calls made the difference between standardized, off-the-rack units and the custom works of art that were created instead." [learn more]
Pittsburg Pursuing New Trail
"The City of Pittsburg is continuing forward with pursuit of a Kansas Department of Transportation grant for a walking/biking/hiking trail in the South Rouse area, while simultaneously seeking additional feedback on the project from area residents. 'This is economic development, because it makes Pittsburg more appealing to those people,' said commissioner Patrick O'Bryan of individuals recruited by area companies. The ultimate goal of each individual trail project is to connect all areas of town. [read more]
But the trail is not without opposition: Proposed Pittsburg trail draws criticism, support from neighbors
Advocating for McPherson Trails
"Walking, hiking, running and biking are all popular, inexpensive and effective ways of keeping fit. It is no wonder McPherson residents of a variety of stations in life showed up on Monday to support a proposed expansion of the city's trail system. The new trail would extend the trail system at Wall Park east along Avenue A toward the housing subdivisions in southeast McPherson. A trail system is an important aspect to improve quality of life in McPherson. An extensive network of trails and means of pedestrian travel will make McPherson more attractive to visitors, future residents and businesses. It will make McPherson stand out among other communities as great place to live." [link]
New Lawrence Trail Proposed
"The trail would take a unique route in that it is proposed to go underneath the Kansas River bridges in downtown Lawrence. That route will allow pedestrians to get to Robinson Park, a small pocket park near the southern end of the bridges, without having to cross either Sixth or Massachusetts streets. City officials also are touting that the new trail section would make it easier for pedestrians in southeast Lawrence to access downtown. City officials will learn later this year whether they have been awarded the grant. The city is proposing to spend about $250,000 in local funds as part of the project." [learn more]
Fort Scott MTB Race Planned
The Fort Scott City Commission "heard from Frank Halsey, with the Gunn Park Trails Committee, who asked the commission's permission to host an upcoming mountain bike race at the trails. Halsey said the committee's goal has been to host a sanctioned mountain bike race, adding he hopes it could be an annual festival. A company called United Federation of Dirt has approached the committee about hosting a race. Commissioners approved use of the trails for two races: the Tri-Yak-A-Thon on June 21 and an as-yet unnamed mountain bike race Aug. 2." [learn more]
Petition To Fill Manhattan Trail Gap
There's a petition on Change.org to encourage the Kansas Department of Transportation to fund a Transportation Enhancements grant in Manhattan, which would enable the city to connect two separated trail sections, and provide a safe crossing of busy Tuttle Creek Boulevard: "This small connection trail and crosswalk to be built as part of the Old Blue River Beautification Project will pave the way for over 30,000 residents, including KSU students and those living east of campus to safely and comfortably bike or walk to eastside businesses." [Sign the Petition]
See also: Help us build a critical connection for our bike network
Dirty Kanza Race Director Returns to Emporia
The Dirty Kanza 200 has become such an economic engine for Emporia that the city's Convention and Visitors Bureau has essentially hired race director Jim Cummins to manage the DK200 as well as other bicycling events in the city. "The CVB is stepping up and we are going to help make it possible to bring their full-time director back to Kansas and be here year-round to run the DK and make things happen. Cummins' return is of interest to the CVB, Rathke said, because it is such a tourist draw for the town. Visitors to the town pay a "transient guest tax" when they stay at hotels in the area, which helps fund the CVB." [learn more]
Welcome back to Kansas, Jim Cummins!
Snowstorm Biking in Wichita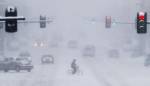 The Wichita Eagle posted an interesting photo of a bicycling crossing a busy roadway in the middle of a snowstorm. The photo produced a number of reactions, from admiration, to disbelief, to criticism and outright scolding. Likely, it was just someone commuting to or from work, in their normal manner. However, there was another, more insightful reaction, via Eric on Twitter: "We have to do better for bicyclists. Ignore the snow…look at that STROAD! Awful." He's right, of course. That's a big intimidating roadway to cross no matter the weather. We should be able to do better. And riding a bicycle in the snow really shouldn't be newsworthy, or even worthy of comment, just a normal part of getting around…
Take the Bicycle and Pedestrian Master Plan Survey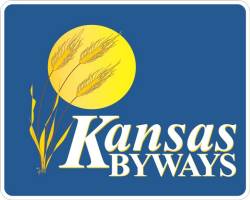 A reminder: Be sure to take a few moments to complete the Bicycle and Pedestrian Master Plan Survey to help planners formulate a strategy for making our byways more accessible by bicyclists and pedestrians. The survey has been getting good coverage around the state, including:
"Bicycle and pedestrian traffic is definitely on the rise in Kansas," said Sue Stringer, the Kansas Byways and Kansas Agritourism manager at the Kansas Department of Wildlife, Parks & Tourism. "… We want to give people the opportunity to be able to travel on Kansas Byways by a bicycle or as a pedestrian." [link]
"This effort is being promoted by Barton County officials and the Great Bend Convention and Visitors' Bureau, all of which understand the value in promoting biking and hiking. Now, it is up to us. Many say they would like to see such opportunities, so this is the chance to make these feelings known." [link]
More Kansas Bicycling News Headlines
Regional Bicycling News
— 2014 Ride the Rockies route features 28,265 cumulative feet of climbing
— Polar vortex or not, the Iowa City Bike Library is still getting Iowa City onto bikes.
— The BikeIowa web site is asking its readers to take a little survey about how the site can be improved. It's a pretty amazing web site already, with tens of thousands of pages about bicycling in the Hawkeye State…
— The Missouri Bicycle and Pedestrian Federation announces the first Gran Fondo in the Kansas City region, the 2014 Tour of Kansas City Gran Fondo.
— Bike sharing program may be coming to Springfield, MO.
— BikeWalkKC is hosting the region's first women's bicycling summit, the KC Women's Bike Summit on May 10, 2014 in Kansas City, MO.
— 2014 Tour de Nebraska route announced: The 27th annual 5-day Tour de Nebraska bicycle adventure will head to northeast Nebraska on its 265-mile round trip journey, June 18-22.
— Lincoln, NE: Bicyclists deserve road consideration, respect
— The Cornhusker State Games has added a gravel grinder.
— Open Streets is coming to Oklahoma City on March 30th.
— Oklahoma's District Bicycle is growing like crazy and moving to a larger space.
— The Oklahoma Department of Transportation declined to support the Oklahoma Bicycle Coalition's efforts to sign U.S. Bike Route 66 through the state. However, there is a bill in Oklahoma legislature that would direct ODOT to seek U.S. Bike Route designation for both Route 66 and for the Chisholm Trail. The Adventure Cycling Association is asking cyclists to support the bill, through contacting the Transportation Committee chair.
National/International Bicycling News
Bicycling Inspiration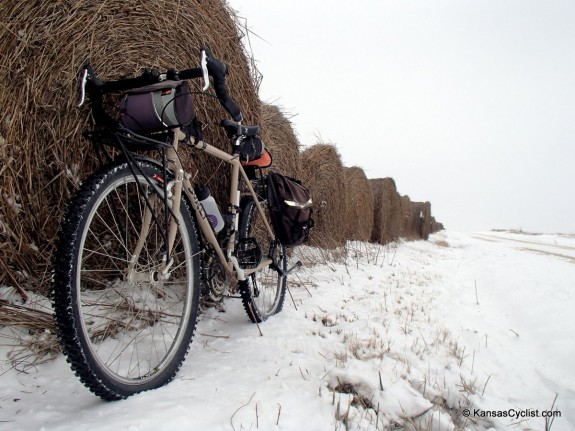 Early-February Kansas has seen lots of snow, and rides have been hard to come by. After the latest storm, I got out for a little 17-mile loop, and found this windbreak created by a long line of big bales. Roads were extremely treacherous and slippery (and crashing hurts), but it was still lots of fun to be outdoors!
---
If you have a news item or upcoming event you'd like to share, please contact Kansas Cyclist with details.
Post tags: Fort Scott, Lawrence, Manhattan, McPherson, Pittsburg, Wichita