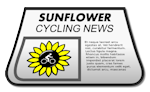 The Sunflower Cycling News is a periodic publication of Kansas Cyclist, featuring a compendium of hand-picked bicycling-related news items from Kansas and neighboring states.
The following is a recap of recent bicycling news from the region, as well as a look ahead to upcoming rides, races, and bicycling events coming up.
---
Bicycling News from Kansas
Topeka Bikeway Signs
"New bike route signs have begun sprouting up along a designated bicycle route from downtown Topeka to Gage Park, an indication the capital city is making its streets more friendly for those who pedal their way around town. The blue signs, which sport white lettering and designs, show a bicycle and include the designation of "Bike Route," in addition to "SW 8th Av." City officials said the cost for the new signage on the street markers along S.W. 8th is $34,500. Funding came from the city's complete streets project fund. More "bicycle boulevards" like the one on S.W. 8th are planned for neighborhoods across Topeka, according to the city's Bikeways Master Plan." [learn more]
Make a Difference in Douglas County
"The Lawrence Douglas County Bicycle Advisory Committee is looking to fill two member seats at large. The Committee works to improve bicycle safety and awareness through education of motorists and non-motorists; review, update, and oversee the distribution of the City's Biking Map; seek information from multiple sources on current trends, programs, and facilities outside the local area; and promote bicycle awareness by coordinating activities with the City, County, the school district, universities, and the local bicycle clubs." [learn more]
Newton Police deal with overflow of bikes in evidence locker
"These are the bikes that are stolen, dumped somewhere, and then never claimed. The police have to store those bikes for 60 days. They have dozens of bikes in their evidence locker and now they have the overflow of bikes in a garage. The police department has decided to hold a bike auction every two months to try to clear out the clutter. They currently have 33 bicycles up for auction. If you submit a bid you are bidding for the entire lot of bicycles, not just one." [learn more]
Butler County Allows KDOT to Destroy Redbud Trail Bridge
Despite hearing testimony from numerous Trail Advocates and interested citizens opposed to removal of a historic railroad bridge, the Butler County Commission voted to allow KDOT to remove the structure over US-400 to make way for highway "improvements". "The commission voted four to 1 to have KDOT tear down the bridge with an eye toward putting up a pedestrian bridge if the pedestrian trail can be build to this area within a decade. Under the gentlemen's agreement, KDOT would pay for 80% of the pedestrian bridge's construction and the county would pay for 20%. The Prairie Travelers group would help with the fund raising effort." Would have liked to see something more definitive than a "gentlemen's agreement", but it could have been worse… [Learn more: RR Bridge Over Highway 400 To Be Torn Down, Commission's removal of bridge will not stop trail, Sad Day For A Future Rail-To-Trail]
Kansas City Levee Trail Developments
"Opening the Kaw and Missouri River levees for trail development is an important priority for the Unified Government of Wyandotte County/Kansas City, KS. These trails are critical components of the MetroGreen regional trail plan. They are also very important for the UG's Complete Streets policy, for its new trails master plan, and for taking full advantage of public investments in the Riverfront Heritage Trail, Kaw Point, and the upcoming replacement of the Fairfax and Platte Purchase Bridges. Unfortunately the folks who control the Fairfax levee are resisting trail development." [learn more]
Rob Jones' Journey Through Kansas
Rob Jones is a veteran that lost both his lower legs in a IED explosion in Afghanistan. After being fitted with prosthetics and learning to walk again, Rob decided to bicycle across America to help raise awareness and $1 million to help other veterans with similar challenges. Rob is traveling from east to west, and has been making his way across Kansas this month. See his progress in news stories: Pittsburg, Chanute, Cassoday, El Dorado, Newton, Hutchinson, Great Bend. You can follow Rob on his web site, Facebook, or Twitter.
More Kansas Bicycling News Headlines
Regional Bicycling News
— In Jonesboro, Arkansas, a new trail is planned for Craighead Forest Park.
— In Telluride Colorado, bicycles are banned from ski areas in the winter. But users of fat bikes (AKA "snow bikes") are hoping to change the policy. "To discourage a burgeoning sport that provides revenue for local shops that sell and rent the bikes doesn't make sense. When the skiing is mediocre, the snow biking is still great."
— Meanwhile, Copper Mountain Resort in Summit County Colorado is hosting their third annual WinterBike festival. "It's a really cool scene," said Copper Mountain communications manager Austyn Williams, who described winter fat-tire biking as a growing trend. "I believe it's definitely an up-and-coming sport. It's opened the doors for another way to play in the snow. Everyone's been digging it. They've gone out just about every day when the sun's out."
— In Iowa, the recent decision by Taylor County attorney to not prosecute a driver who killed a bicyclist, and later claimed to have thought she hit a deer, prompted a response from the Iowa Bicycle Coalition's Mark Wyatt: "The Iowa attorney general's office issued new training on bicycle crashes this year because we found instances where traffic penalties were lower for motorists who hit bicyclists than car vs. car crashes. Public safety stopped calling crashes "accidents" a long time ago. There are attributable causes when fatalities occur. It is not OK that Gerald Williams was killed. Our system is broken but not beyond repair. No traffic fatality is acceptable. We must use better policy to increase safety and reduce fatalities by prioritizing the improvement of traffic facilities."
— The Iowa Bicycle Summit began on January 24th in Des Moines, with the RAGBRAI Route Announcement Party on January 25th. The event raised $53,000 for the Iowa Bicycle Coalition.
— In St. Louis County Missouri, the Complete Street argument continues to fester, with bicyclists on both sides of the controversy: 'Complete Streets' improve quality of life for everyone, 'Complete Streets' bill would bring wasteful distractions, It's in the name: 'Complete Streets', Article on 'Complete Streets' was overly negative. And, of course, someone has to bring up that old, long-discredited chestnut, the zombie lie that seeming cannot die: Bicyclists should pay for license to use roads.
— In western Nebraska, "cycling enthusiasts have been corresponding with each other about ideas for making Western Nebraska the next great cycling escape. One step in making that happen is to establish a cycling club." It's "a prime area for cycling, especially trail riding, gravel riding and bikepacking. There's a lot of untapped treasures out there."
— Fremont Nebraska, there's interest in turning a defunct rail line into a trail: "The health benefits would be huge and would draw hundreds of tourists and vacationers to this area annually."
— The Oklahoma Bike Summit took place recently in Tulsa, "with goals that included influencing bicycle-friendly legislation and teaching cities how they can become tourism destinations for cyclists."
— The route has been announced for the Oklahoma Freewheel: "This year's ride will start in Comanche and run through Marietta, Tishomingo, Pauls Valley, McLoud, Stillwater, Tonkawa, and it will end in Caldwell, Kansas." The week-long tour is June 8-14, 2014.
National/International Bicycling News
Bicycling Inspiration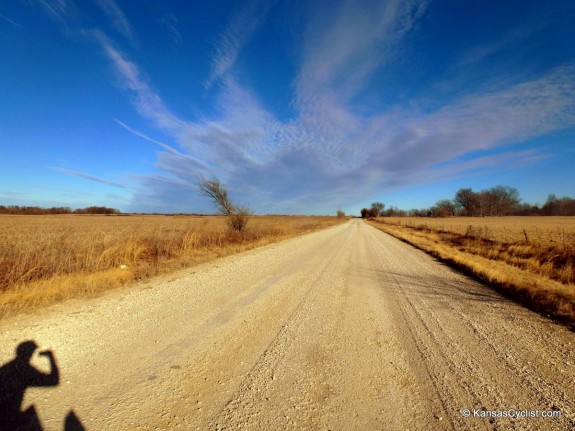 Weather, as is not-untypical for January, has been spotty for riding. Snow, cold, and wind haven't kept me from riding, but have discouraged any long rides.
But I did get in a nice 50+ miler last weekend, with warm temps, moderate wind, plentiful sunshine, and dramatic clouds. Photo-worthy!
---
If you have a news item or upcoming event you'd like to share, please contact Kansas Cyclist with details.
Post tags: Kansas City, Lawrence, Newton, Topeka