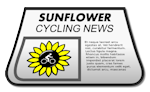 The Sunflower Cycling News is a periodic publication of Kansas Cyclist, featuring a compendium of hand-picked bicycling-related news items from Kansas and neighboring states.
The following is a recap of recent bicycling news from the region, as well as a look ahead to upcoming rides, races, and bicycling events coming up.
---
Bicycling News from Kansas
Pittsburg Scouts Honored for Cycling
"Area Boy Scout troops may not have realized they were inspiring their community as they worked on their Cycling merit badge throughout the summer and fall of 2013. However, Boy Scout Troops 81, 151 and 114 will receive the Live Well Crawford County Apple Award as an additional recognition beyond the earning of their badges. Scouts took on the series of seven rides, which started off with shorter distances in August and culminated with a 50-mile ride on Nov. 2. The goal of the Apple Awards is to recognize those individuals or organizations that are making a healthy impact on the community." [learn more]
FreeWheels for Kids promotes safe bicycling in KCK
"There are a lot more kids in that east KCK area riding bikes now and riding them safely. More than 1,000 have graduated since 2011 from the FreeWheels bike safety classes. Hundreds have been given bikes through the group's Earn-a-Bike program, where kids learn how to take apart bicycles and put them back together." [learn more]
Topeka Motorist's hearing in vehicle-bike case postponed
"The case of a motorist charged with the traffic injury of a 12-year-old girl, who was riding her bicycle when a vehicle struck her from behind, was postponed five weeks." Rebecca Lynn Horting has been charged with aggravated battery (great bodily harm), which is a felony, for running down Rylee Robinson, who was riding her bicycle on the shoulder of S.W. Topeka Boulevard on May 6th. [learn more]
Work continues to save Marysville Depot
"Talks about the future of Marysville's former Union Pacific depot continue between the railroad and a local preservation group. The Marysville Union Pacific Depot Preservation Society would like to see it become a trailhead for the Blue River Rail Trail, a hiking and biking path on a former railbed through Marysville and into Nebraska that is part of the four-state Quad State Trail System that connects rail trails in Kansas, Nebraska, Iowa and Missouri." [learn more]
Accused Killer Ordered To Stand Trial in Salina
"A Salina man charged in connection with the May fatality crash with bicyclist Gail Kline was bound over for trial on felony charges of reckless involuntary manslaughter and leaving the scene of an injury or fatality accident. Lewis Grider, 63, entered a not guilty plea. The judge denied prosecutors request to increase the charge to reckless second-degree murder, saying the evidence was insufficient to show extreme indifference to the value of human life." Testimony was also heard that Grider was unable to see clearly, yet has continued to drive. [learn more]
More Kansas Bicycling News Headlines
Regional Bicycling News
— In Jonesboro, Arkansas, a new trail is planned for Craighead Forest Park.
– A man in North little Rock, Arkansas is thanking three strangers who helped him after he crashed his bike.
— Vail, Colorado is celebrating its status in the Bicycle Friendly Community rankings, after moving up from bronze to silver.
— Fort Collins, Colorado bicycling columnist Rick Price says We need to unlearn the outdated 'far to the right' rule.
— An Iowa driver who struck and killed a cyclist uses the old "I thought I hit a deer" excuse, and gets away with it
— A Kansas City, Missouri man's bicycle was destroyed when the bus he was riding on collided with a van, and he's waiting for the insurance company to settle up. In the meantime, he was without transportation, until a new bike was donated by television viewers who want to "pay it forward".
— A letter to the editor in Kansas City, Missouri questions "whether marked bicycle lanes along city roads offer bicyclists a safe, legal right-of-way", while apparently not understanding how they work.
— A complete Streets bill in St. Louis County, Missouri remains in limbo. A group of "bike enthusiasts" is adamantly opposed to the "nightmarish" proposal. Meanwhile the president of the Missouri Bicycle and Pedestrian Federation says "United we stand tall and we take positive steps to make our transportation system better, divided we undermine the system approach and take steps backwards."
— Bellevue, Nebraska is considering banning bicycles from their Missouri River bridge, saying that impatient motorists are creating a safety hazard.
— In Lincoln, Nebraska, a look back at the forming of advocacy group BicycLincoln: "We are showing the nation how a small heartland city is not just making things better for those on bikes but how investing in better active transportation makes for a stronger, healthier, and more vibrant community."
— There's a new bicycle club in Scotts Bluff, Nebraska. The local newspaper says Bike-friendly streets would be good for our health.
— In Oklahoma, a travelogue, with fine photos, from New Years Day Ride 2014.
— Oklahoma City has the state's first buffered bike lane.
National Bicycling News
Bicycling Inspiration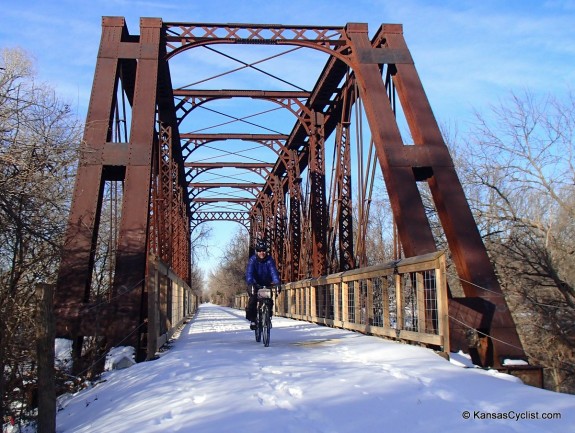 We've had our share of frigid weather, but now that that's over and done with (right!), get out there and ride.
This is me enjoying the Southwind Rail Trail. Temperatures in the 30s, plus a couple inches of snow on the ground, make for excellent riding conditions!
---
If you have a news item or upcoming event you'd like to share, please contact Kansas Cyclist with details.
Post tags: Digest, Gail Kline, Kansas City, Marysville, Pittsburg, Salina, Topeka