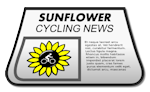 The Sunflower Cycling News is a periodic publication of Kansas Cyclist, featuring a compendium of hand-picked bicycling-related news items from Kansas and neighboring states.
The following is a recap of recent bicycling news from the region, as well as a look ahead to upcoming rides, races, and bicycling events coming up.
---
Bicycling News from Kansas
Pittsburg Boy Scouts Ready to Ride
"When we started, some didn't think they could go 10 miles. Now, 50 miles, they're not intimidated. They did the 30 mile ride and came back pumped. This is a challenge, and now they think, 'I can do it.' It gives them a lot of confidence in themselves. And it's fun. It's epic. Fifty miles is probably the most physically demanding thing they've ever done." [read more]
Man injured in bike-vehicle collision in Wichita
"A 42-year-old man riding a bicycle across the intersection of 13th and Mosley on Friday was hit by a car after he reportedly ran a red traffic light, Wichita police say. The man was taken to a local hospital in critical condition. He was reportedly unconscious and suffered injuries to his head and left side." [learn more]
Bike trail one step closer to reality in Baxter Springs
"The Baxter Springs City Council voted unanimously on Oct. 23 to authorize Mayor Randy Trease to submit a letter of approval for the right of use of the rail bed that goes thru city property behind the water plant subject with written agreement. The property will be used for the proposed bicycle trail in Baxter Springs." [link]
Cowboy Trail moving to planning stage in Abilene
"Plans for a dedicated pedestrian and biking path that connects neighborhoods and skirts the perimeter of Abilene continue to move forward. Following a period of public input and assessment, the Abilene Cowboy Trail project in moving out of the concept stage and into the planning stage according to City Manager David Dillner. The Quality of Life Coalition, which spearheaded the Cowboy Trail project, is also working on gathering information to provide the city with specifics that can lead to including biking and walking trail language in the city's comprehensive plan. Abilene is really conducive to walking and biking because things are in a concentrated area. We want to start having a more walkable and bikable community." [learn more]
Stafford County taking steps toward a Healthy Initiative
"Obesity has been an issue here, but with the support of our initiative, our goal is to create a place where it is easy to be active. We have created a survey to get a better understanding of what the community sees as priority issues that need fixed. We also would like to know what policy changes could be made in order to create a more active, healthier environment; essentially what will motivate people. The group will form a master walk/bike plan for Stafford County in hopes of it becoming the plan to follow in construction of new trails and restoration of old paths. [link]
Wichita's Bicycle Projects for 2014
"On August 6th the Wichita City Council approved concept design contracts and related funding for approximately 40 miles of new bicycle facilities. The bikeway designs include seven of the top ten priority on-street and side path bicycle facilities, and one mile of the top priority shared-use path recommended in the Wichita Bicycle Master Plan." [learn more]
Gunn Park Trails: Interview with Frank Halsey
"In Gunn Park in Fort Scott, down by the river, you can find a well-maintained mountain bike trails. I was lucky enough to get a chance to meet with the trail designers while I was mapping out the trail for the upcoming book. Frank Halsey worked hard to develop these trails, starting without permission, but carrying on. He opens up here about what it was like to create, from nothing, an entire set of trails." [read more]
Regional Bicycling News

— Searcy, AR: Crash that killed student was 'unavoidable accident,' no charges filed — "A White County deputy won't face charges after he struck and killed a Harding University student with his patrol car. Courtney Book was riding her bicycle at night when she was struck by a patrol car driven by Lt. Brandon Grimes. Prosecuting Attorney Chris Raff says the incident was an 'unavoidable accident.' He says Book was wearing dark clothing and the bicycle did not have reflectors."

— Colorado: Mountaintop Stage 3 finish highlights 2014 USA Pro Challenge — "The USA Pro Challenge will have a true mountaintop stage finish for the first time in the history of the race in 2014. Race organizers unveiled the start and finish sites for six of the seven stages of the race's fourth edition Monday, including a ride up 11,960-foot Monarch Mountain, 20 miles west of Salida, as its mountaintop finish site for Stage 3. The race will run Aug. 18-24."

— Coon Rapids, IA: Swapping seed corn for bikes — "Once known as a seed corn mecca, Coon Rapids will soon transform a portion of Whiterock Conservancy to a 'roller coaster through the trees' for bikes and horses. A critical piece of fundraising was secured in October to begin an elaborate network of 35 miles of dirt trails for mountain bikers and horseback riders along the rolling river valley of timber, savanna and prairie at Whiterock Conservancy near Coon Rapids. Though it will be touted as the finest single-track biking network within 400 miles when it opens next fall, it is hoped that the appeal will spread beyond saddle-sitters to demonstrate how to add luster to rural Iowa."

— Kansas City, MO: Women's Dirt Summit — "EarthRiders Mountain Bike Club is proud to present the Kansas City Women's Dirt Summit, a free, open event for women mountain bikers! Ride the amazing Swope Trails … bring your kids for an awesome day at the Swope Parks Lakeside Nature Center … and enjoy lunch, hands-on trail skills workshops, and a chance to 'dream big' about women's mountain biking … all at this year's full-force women's MTB gathering in the KC area! Saturday, November 9, 2013 from 9:30 AM to 1:30 PM at Swope Trails in KCMO"

— Omaha, NE: Multiple transportation options make fiscal sense for city — "As the city considers its future transportation policies, we believe a strong case can be made for multimodal transportation in Omaha, a transportation system that creates safe and viable options for people to get around the city by car, bicycle, walking and public transit. A shift of only 3 percent to 5 percent could put Omaha on par with cities like Minneapolis and Portland, Ore., both of which are among the most attractive cities in the U.S. for businesses and employees. Research continually shows that support of multimodal transportation is good for economic development — it creates jobs and job access, increases money circulating in the local economy, reduces the cost of congestion and increases private investment and property values."

— Edmond, OK: Edmond hosts celebration in honor of first bike lane — "The city of Edmond is celebrating its first bike lane with an 'Open Streets Event' this weekend. City leaders say University Dr., just north of Ayers and spanning to Washington St., will be closed to motorists so residents can enjoy the new bike lanes without worrying about traffic."
Event News
Events this weekend in Kansas include:
— 11-09-2013: Grand Prix HPT — Grand Prix HPT is an "avondcross" event (Flemish for evening 'cross), at the Heartland Park Topeka dirt track in Topeka, Kansas.
— 11-09-2013: Badger Creek Bonkfest — Winfield, KS – Part of the Big Ring Dirt Road Race Series.
— 11-10-2013: Freedom Ride — A gravel road mountain bike ride which will begin and end in the founding city of All Veterans Day, Emporia, Kansas. 15 and 35 mile options.
See also: Kansas Ride Calendar, Regional Ride Calendar
Bicycling Inspiration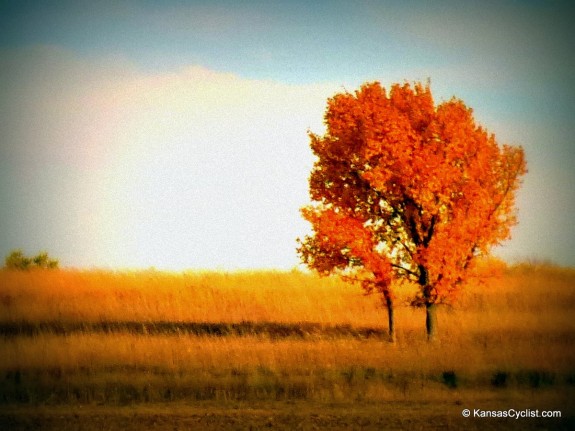 This photo, of a colorful tree on a hillside in rural Allen County, looks like Pointillist painting, but it's actually just a highly-cropped digital photo with the contrast and color boosted a bit. I like the way it turned out.
Isn't Kansas beautiful? Especially as seen from a bike, if you just take the time to stop and truly see!
---
If you have a news item or upcoming event you'd like to share, please contact Kansas Cyclist with details.
Post tags: Abilene, Baxter Springs, Digest, Fort Scott, Pittsburg, Wichita