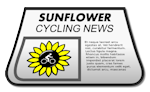 The Sunflower Cycling News is a periodic publication of Kansas Cyclist, featuring a compendium of hand-picked bicycling-related news items from Kansas and elsewhere.
The following is a recap of recent bicycling news from the region, as well as a look ahead to upcoming rides, tours, races, and bicycling events.
---
Bicycling News from Kansas
Where rubber meets road for bicyclists – Bicycling at K-State and in Manhattan
Local experts and members of the cycling community said they believe that Manhattan may have a few more milestones to pass before becoming better equipped in handling cyclists on the road. The K-State campus, in spite of its efforts in bicycle regulation, did not make the cut as a "bicycle-friendly" campus as far as league is concerned. The state of Kansas still remains free of any universities that hold that title. Maj. Donald Stubbings, patrol director for the K-State Police Department, said he believes that as Manhattan grows within the next few years, it will be able to build more tangible infrastructure that will help support the system of laws that govern the relationship between bicyclists and both motorists on the road and pedestrians on sidewalks.
Help expand the Prairie Sunset Rail Trail into Wichita!
2015 is a year of possibilities for trails in Wichita. On both the east and west sides of town, trail advocates from Prairie Travelers and partner organization Andover-Augusta Rail Trail Initiative (AARTI) are diligently working to create regional transportation connections that include bicyclists and pedestrians. Their combined efforts could result in a 50 mile designated bikeway stretching from Garden Plain to Augusta.
First Court Appearance for Kansas Man Charged With Death of Bicyclist Mark Jilka
A Kansas man made his first court appearance on Wednesday in connection with a fatal bicycle accident in June. Derik Kesler, 32, Rossville, is charged with vehicular homicide. Kessler's next appearance will be on March 2.
Snow And Sand Fat-Biking along the Arkansas River
Woke up to a little snow yesterday morning and rode my poor mans fat-bike the Mongoose Dolomite on trails along the river. It was warm prior to the snow and the ground wasn't frozen so the sand was soft and made for more difficult than usual riding when topped with the snow.
Action Alert: Support completion of the Turkey Creek Trail in Mission, KS
The Mission City Council is once again balking at accepting federal funds for Johnson County's final piece of the 10 mile Turkey Creek Trail, part of the regional MetroGreen system connecting Merriam, Overland Park, Mission, KCK, and Downtown KCMO. Construction began in Merriam in 1992, and 23 years later the last piece of trail has yet to be built in of Mission.
Overland Park bike plan gets OK from planners, moves to council
Overland Park this week took another step toward creating a network of bike lanes. At its meeting Monday afternoon, the Planning Commission approved a bike plan that would create 165 miles of bicycle lanes throughout the city. It would also create buffered bicycle lanes, shared use paths, shared lane markings and signed bike routes.
Flint Hills Nature Trail project to begin February 23
The first phase of construction (Phase I-A) will extend from Colorado Road to Iowa Terrace in Franklin County, with construction activities occurring entirely within the current Flint Hills Nature Trail right of way. The project will include clearing, gravel surfacing, bridge railing, and signing. The start date for construction is planned for Feb. 23, 2015, weather permitting.
Salina bike route map updated with input from bicycing community
An updated Salina Bicycle Route Map showing current and future routes was approved Monday by the Salina City Commission. A number of different groups, including the city's Bicycle Advisory Committee, were asked to look at proposed updates to the city's bike trail map. "An average bicyclist should feel comfortable bicycling on designated routes during any time of the day."
Bicycling Event News
Bikes on Parade! March 14 in Topeka
Come ride in the St. Patricks Day Parade with the Topeka Community Cycle Project! We will meet at the shop around 10:30, then head to staging. Come Celebrate Bikes in the Community!
South Central Mountain Biking Summit April 17-19th in Fayetteville, AR
The South Central region of the International Mountain Bicycling Association is hosting its very first summit this April in Fayetteville. Participants will learn about agency collaboration, grants, trail mapping, chapter strategic planning and high school MTBing. Enjoy group rides, bike demos and plenty of good food and opportunities to network, socialize and have fun with other area MTB advocates.
20 Years of Spring Fling Criterium Series
The Kansas City metro area is fortunate to have some great 'series' events. For the roadies, one of the longest running (20 years!) of these is the Lawrence, KS Spring Fling Criterium Series. Promoted by area cycling coach Jim Whittaker, this essential has grown from early days of two categories (A and B) with 30 riders, to some of the larger early season regional races. 2015 races are scheduled for February 28, March 7, 14, 21, and 28.
ALS Road Race Series
The ALS Road Race Series takes place each March at Thompson Park, Lake Perry, Kansas. This series provides early-season road race training on a fun and challenging course. For 2015, the dates are March 1, March 8, and March 15.
Late Update! Weekend Races Cancelled
Revolution Racing is cancelling the Feb 28th Spring Fling. Our make-up date is scheduled for Saturday April 4. From Roger Harrison: Sunday, March 1, 2015 – ALS Series is cancelled. March 8, and 15 2015 event will go as scheduled on the flier, same laps etc.
Regional Bicycling News
Arkansas
Northwest Arkansas Razorback Greenway substantially done, tentative ribbon cutting set for May
A dedication ceremony for the trail system is tentatively set for May 2 in Springdale with groups riding or walking to the site from other cities on the trails, McLarty said. Gov. Asa Hutchinson, U.S. Department of Transportation director Anthony Foxx, the region's Congressional delegation and other dignitaries have been invited to attend.
Love of bicycles keeps The Community Bicyclist rollin'
There are bigger, shinier shops in Little Rock than Williamson's The Community Bicyclist, but none speak more to this enduring wonder of a boy and his bike. Everywhere you look, you see a little something of Williamson and each model and memento tells a story. "I was really very passionate about commuting on bikes, using the bike for transportation and that still is the passion," he said.
Colorado
Snow Cycling in Colorado Ski Country
Fat bikes, as they're known, have been around for at least six or seven years in Duluth, Minn., Madison, Wis., and other snowy places with large cycling communities, good trails and less-than-ideal ski conditions. But only in the past few months have fat bikes taken off in Colorado—with the opening of fat-bike rental shops in the popular ski resorts of Crested Butte and Breckenridge, which could signal a tipping point for the sport.
Connecting a Town with Singletrack Sidewalks
Eagle, Colorado, a 7,000-person town between Vail and Aspen, already has its share of walking paths and bike lanes, but its newest project will allow mountain bikers to ride from their driveways to the trails, and for kids to ride from their homes to school—all on singletrack. The town unanimously approved the project, called Singletrack Sidewalks, in November.
Iowa
Iowa bill would mandate rear lighting on bicycles
A bill seeking to require bicycle operators to have a light mounted on the rear of their bikes when riding on roadways in Iowa between sunset and sunrise could become a vehicle for a much-broader legislative discussion of highway safety issues.
2015 Iowa Bicycling Legislation
The following bills have been filed in the Iowa Legislature: Right hand for right turn signal, Raise fines for fatal crashes, Five foot passing, Rear Light Required instead of reflector, Safe Routes to School funding.
Missouri
Residents In Eldon Support Rock Island Trail
Efforts continue to make the proposed Rock Island trail a reality. Eldon resident and trail supporter Ben Duffield says the trail would be a boom to the local economy and benefit several area school districts and communities.
Carthage council approves bicycle, sidewalk ordinances
The bike route study will determine which streets in Carthage might lend themselves to designated bike lanes in an effort to help residents get around the city, without the use of cars, to shopping areas, parks and other sites.
Rider for all seasons, even bone-chilling cold
Jim Phillips sold his soft-top Jeep Wrangler two years ago. A frugal man, he asked himself why he was paying insurance for a vehicle that never moved. He hasn't owned a car since. He rides a bicycle. Phillips, 44, is a rider for all seasons. He rides in sleet. When the wind chill plummets. Last week, he pedaled to work — 16 miles roundtrip — on a morning cold enough to take your fingertips.
Columbia parks and recreation proposes 30-mile trail loop
A proposed 30-mile loop of connected trails around Columbia would use a portion of an abandoned Boone County road on the western edge of the city. The new trail will likely be part of a ballot issue in November, when the city is expected to seek renewal of its five-year, one-eighth-cent parks sales tax.
KC Area Bikeways multiplying, but gaps dot the routes
Regional leaders are encouraging cities across the metro area add more bike lanes, giving people a chance to get healthier, pollute the air less and maybe even find a different way to work. "Local bikeways are growing at a phenomenal rate," said Aaron Bartlett, senior transportation planner at the Mid-America Regional Council, which recently approved the Greater Kansas City Regional Bikeway Plan, calling for 2,000 miles of on-road and off-road routes across eight counties.
Major victory for mountain biking in Missouri: Mountain Biking to be allowed in Ozark National Scenic Riverways
Under a new General Management Plan recently adopted by the National Park Service, the Ozark National Scenic Riverways will, for the first time since its founding in 1964, allow mountain biking on Scenic Riverways trails.
Nebraska
Downtown Lincoln's Two-Way Protected Bikeway to Begin Work in March, Completion by October
When completed, the protected bikeway will provide a safe, bi-directional path along 'N' Street from Antelope Valley to the West Haymarket area, a critical link in the City's 128-mile trail network. Because the bikeway will be a dedicated space, separated from other traffic, it will make downtown safer and more enjoyable not just for bikers, but also for motorists and pedestrians.
Nebraska lawmakers pass electric-powered bicycle bill
A bill that would treat electric-assist bicycles the same as regular bikes has passed in the Nebraska Legislature. The bill would allow electric-assist bicycles to use bike lanes and bike paths. They would be regulated as bicycles instead of motor vehicles, which have stricter requirements.
Oklahoma
What Bicyclists Could Get A Ticket For If One OKC Councilman Gets His Way
Ward 8 Councilman Pat Ryan's proposed change would make the city code mirror a clause in the state's bicycle law; prohibiting cyclists from passing vehicles between lanes of traffic traveling in the same direction.
Enid cyclists take to the trails in Stillwater
Despite the cold, and threat of inclement weather, 164 riders registered over for Chili Bike, and bicycle club Red Dirt Pedalers raised an estimated $4,900. Although Oklahoma is generally considered to be flat, Stillwater boasts mountain bike trails at lakes McMurtry and Carl Blackwell, which draw hundreds of cyclists for events like Chili Bike from across the state and even from the coasts.
Interesting Bicycling News from Elsewhere
Wyoming says bicycle safety not worthy of study by dept of transportation
The House narrowly defeated a bill Tuesday that called for a comprehensive study of bicycle safety and even the eventual building of a statewide bicycle pathway system. The bill would have required the Wyoming Department of Transportation to collect data on bicycle fatalities. WYDOT would have analyzed the data, identified areas of concern, reviewed academic literature on the topic and written recommendations to increase safety, such as modifying traffic laws or adding signs.
Can Everyday Biking Keep Us Young?
Cycling allows you to feel like a kid again! The study determined that seniors that cycle don't age like inactive seniors. Physiologically, they resemble much younger people.
Bicycle Commuting can lead to significant savings
The benefits of cycling outweigh the risks by 19 to 1. This is a saving for everyone, not just people who ride bicycles and it is a positive spin on bicycles helping the wider community as a sustainable form of transport.
Want a meal on 2 wheels? Utah may halt bikes in drive-thrus
Hungry cyclists thinking of grabbing a quick taco or hamburger while cruising through Salt Lake City could soon find that Utah has restricted their two-wheeled meals. The state Senate on Friday passed a bill that would allow Salt Lake restaurants to ban cyclists from drive-thru lanes, a move that overrides a city rule passed just a few months ago. The proposal now heads to the governor.
Freedom to my parents meant having a car. Freedom to my kids means not being dependent on a car.
A lot of businesses recognize the workforce does not want to be required to hop in a car to get to work. Now cities are being rewoven for a biking and walking culture. I love the feel of being on a bike and feeling the open air, but even more importantly, I love the freedom to be able to experience my city at the speed of bike as opposed to the speed of cars.
February Photos
I've been spending a lot of my free time working on clearing trail corridors at the Lehigh Portland Trails near Iola. The cold weather and precipitation has been a challenge for much of February, but we're continuing to make progress. Hoping to have some limited trails open by summer, with an official grand opening by mid-2016.
---
If you have a news item or upcoming event you'd like to share, please contact Kansas Cyclist with details.